Learning from Reston's 50 years of "Work, Play, Live"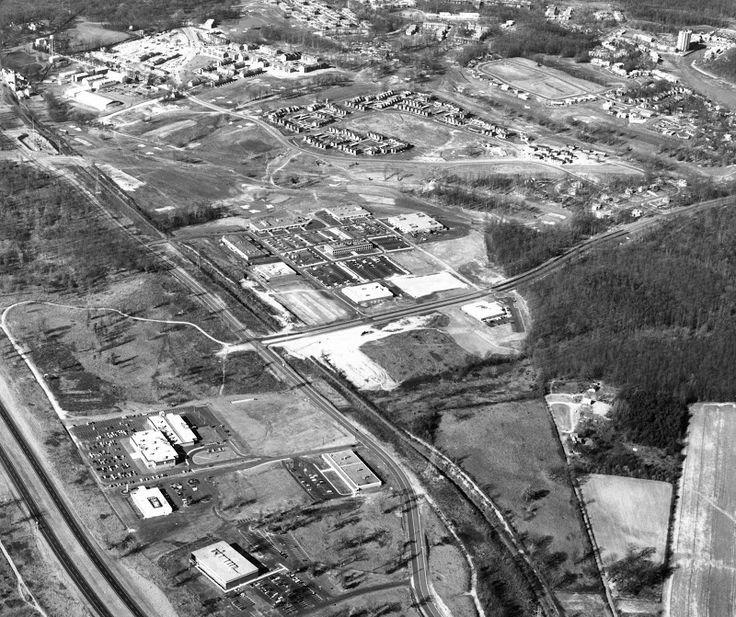 When a radical plan to create a city "in the sticks" outside Washington DC emerged in the early 1960s, it was hailed both as innovative and insane.
Robert Edward Simon Jr.  (his initials R. E. S. being the beginning of the city name "Reston") a Harvard educated man from Manhattan, invested a large amount of his family's real estate fortune, and created a planned community on 7000 acres, 20 miles west of Washington.
The vision of this community included shopping plazas, each serving a "village" of 10,000 to 12,000 residents; 35 houses of worship; 21 schools; an industrial park to employ half of Reston's work force; and a downtown area with transportation, medical, hotel and entertainment facilities.
The first 400 families moved into the community in 1965, but by 1967, the investment strategy had failed, and was bailed out by The Gulf Oil Company, a major financial backer, that took over the project.
The concept has had growing pains, but persisted, morphed and continued to benefit from the westward expansion of the Washington suburbs and the income opportunities of the beltway and Dulles Toll Road.
Today, Reston's Commercial development is primarily clustered along three main arteries—Reston Parkway, Sunrise Valley Drive and Sunset Hills Road. Reston is home to four hotels, about 466,000 square feet of industrial/flex space and 1.7 million square feet of retail development, much of which is focused around the Reston Town Center. Reston is the second largest office market in Fairfax County with almost 19.7 million square feet of space. Office buildings range from condominiums to the high-rise structures around the Reston Town Center.
Reston has expanded to include business parks.  These include Campus Commons, Commerce Executive Park, Isaac Newton Square, Lake Fairfax Business Center and Parkridge. Reston is a huge success, so you know how this story ends.  But you may not appreciate its growing pains.
From a study, Reston residents revealed great satisfaction with the sense of community, its diversity, the concentration of "smart people", and its level of civic involvement.  Reston's natural surroundings, blending open areas and green spaces with buildings, created a sense of calm.  Its built-in thoughtful layout made shopping convenient, attracting service businesses of all kinds, and its proximity to Dulles airport and the technology firms on the Toll Road provided employment opportunities.
But Reston was challenged with poor traffic patterns and an ever-increasing population density that negatively impacted the quality of life.  The land boom of the 2000's created more rapid and challenging growth than Reston's infrastructure plans could effectively accommodate.   The zoning and use plans that had been in place for decades, suddenly appeared out of touch with resident's needs, in the climate of a go-go economy.
But Reston prevailed.  By 2014 (when Simon turned 100 years of age) it had become a city of 60,000, a racially integrated, economically diverse mix of urban and suburban lifestyles.  The vision of live, work, and play now includes, sky scraping apartment buildings and office complexes, town houses and single-family homes, and special use facilities for young people and senior citizens. There are exercise facilities featuring swimming pools, tennis courts, and walkways that snake through wooded areas, reaching lakeside shops, restaurants, and other businesses.
Reston has had significant acclaim. In 2012, CNN Money magazine ranked it #7 of its "Best Places to Live in America".
The town has transformed over the years as the vision has matured.  While the future is still unknown, it is likely to be a community where it's possible to be born, live and retire.  Reston faces the ongoing challenge of changing demographics and changing lifestyle demands, but continues to nurture and maintain Robert Simon's the "work, play, live" vision.  Today, more focus is on the work and play aspect of this vision.  As a center for high paying work, Reston continues to development new office buildings, as there is an increasing demand for offices near the Metro, making Reston a gateway to Washington DC now, more than ever.
Verity Commercial Real Estate stays on top of trends in community development, tracking the very factors that make a community work, and helping to incorporate those into your development and investment strategy.  Trust Verity's vision to help with your real estate needs.
** Source:  http://www.fairfaxcountyeda.org/reston-businessarea#sthash.Xn0IiRBH.dpuf
Categories: