Pharmaron Baltimore Case Story
Baltimore, MD
Size: 66,000-sf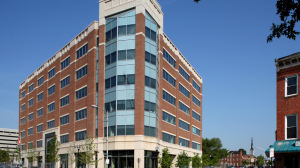 Verity provided pre-construction services to include contract negotiations with the architect and general contractor. Verity also coordinated with the tenant leadership team to assemble a phasing plan/moving plan that enables the tenant to remain operational during construction of this multi-floor renovation. Services also include coordination with the landlord and assistance with lease negotiations. Verity's responsibilities include equipment coordination, budgeting, scheduling construction management and project close-out.
Located in the University of Maryland BioPark, this project is the renovation of four floors totaling 66,000-sf. The work includes corporate offices, laboratories, pharmacy, and medical exam rooms. The work will be phased to allow Pharmaron to maintain ongoing clinical trials and research.
This project is complicated in that the tenant owns two floors on a condominium basis and is leasing positions of another two floors. The HVAC/ electric will also be partially owned by the tenant and partially leased from the landlord. The scope of services includes working with the design team and the landlord to coordinate this process. This project also involves the coordination with other building tenants regarding the installation of plumbing/HVAC piping above their ceilings.
Verity maintains positive relationships with the not only our client but also with the landlord, and adjacent tenants throughout the building.