Quebec Data Center Case Story
Quebec City, Canada
90,000-sf, 13.5-mw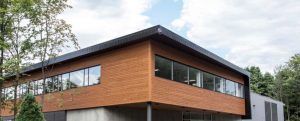 As part of a 10-acre data center campus in Quebec City, this 90,000-sf, 13.5-mw data center is the second facility to be built. Features include Class A building amenities and high-quality electrical and fiber-optic network. Verity performed project management and advisory services related to design, budget, ready for service (RFS), customer delivery, and construction management.
POSITIVE IMPACT ON THE DATA CENTER INDUSTRY:
Because of our success in Canada, the client requested additional assistance with their construction team in Virginia. Verity continues to offer the client guidance and support in Northern VA.
RESULTS:
The client solicited Verity's help in getting this project back on schedule. Within just days of the request, Verity was onsite in Quebec City. Project challenges we overcame included winter snowstorms in Quebec, French and Canadian language barrier, Construction Commission of Quebec (CCQ) construction holidays, and supply chain hurdles. Verity took on an "extreme ownership" mentality and rallied the onsite construction team. Verity regularly communicated risks and mitigation strategies with the client's executives and subject matter experts every step of the way; and ultimately, got the project back on schedule and delivered critical space to the customer on-time. With our success in Canada, the client requested additional work from Verity to assist and support their construction team in Northern VA.
"We hired Verity to assist us with a complex and challenging international data center project. Verity was quick to act and was onsite within just days of our request. From the beginning, Verity's leadership and management unified the team and created a positive outcome for all stakeholders. Throughout the duration of the project, Verity kept [our] executive team well-informed and assisted us with risk and mitigation strategies. Verity's leadership and approach was instrumental in delivering critical space to the customer on-time. – Confidential Client 

"Verity has a demonstrated approach to project and construction management that delivers projects on-time even in unexpected challenges and circumstances. Through an innate ability to cultivate strong relationships with designers, general contractors, subcontractors, and suppliers, they create a positive team environment among all stakeholders. They are proactive in identifying potential obstacles that may arise on our projects and work with us from the beginning to implement project strategies. Having Verity on our team, gives us the best advice, representation, and project outcome possible." ­­– Confidential Client