For the 5th Time, Verity Commercial Appears on the Inc. 5000 List of America's Fastest-Growing Private Companies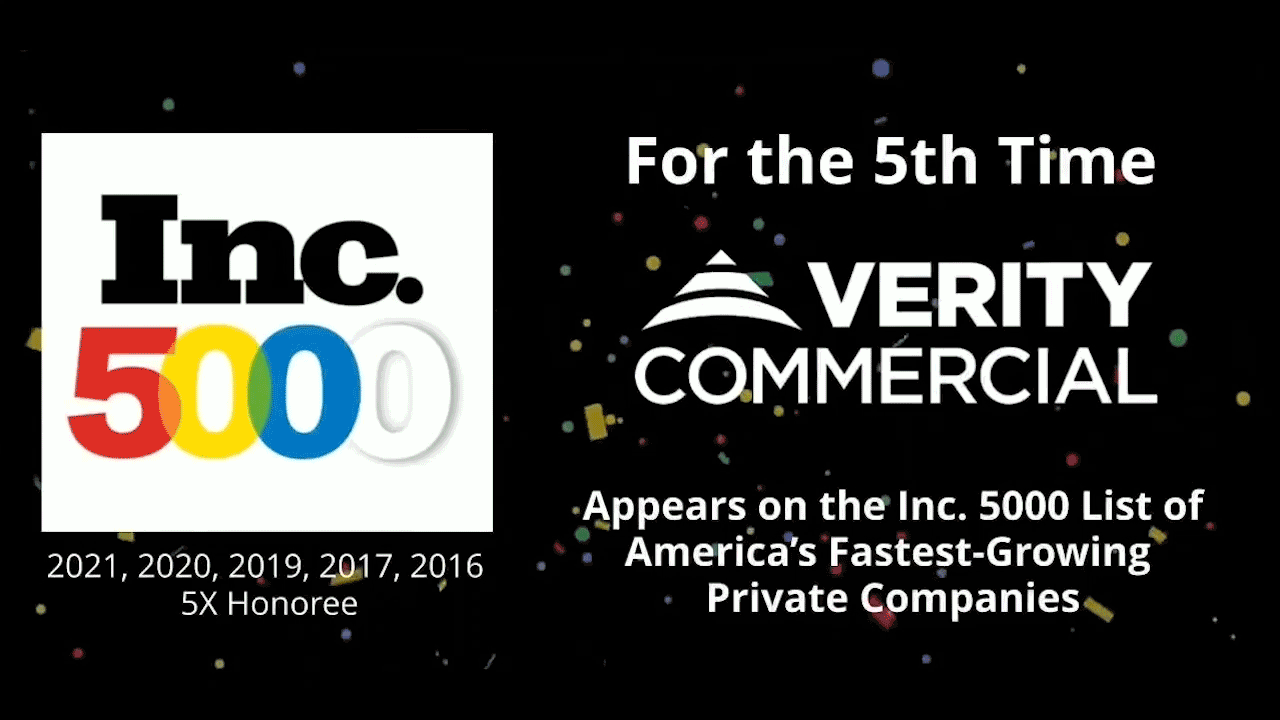 For the 5th time, Inc. magazine revealed that Verity Commercial, a multidisciplinary commercial real estate advisory firm, ranked on its annual Inc. 5000 list, the most prestigious ranking of the nation's fastest-growing private companies. The list represents a unique look at the most successful companies within the American economy's most dynamic segment—its independent businesses. Among the 5,000, the average median three-year growth rate soared to 543 percent, and median revenue reached $11.1 million. Together, those companies added more than 610,000 jobs over the past three years.
That's not to say 2020 wasn't without its challenges. But Verity's multidisciplinary business platform and a strong focus on the wellness of its people and clients were key to maintaining stability and growth.
"Verity's multidisciplined approach was key to our resilience this past year. While our brokerage business naturally contracted due to the pandemic, our construction management and development business with its focus on data centers, life science, and multifamily sectors increased dramatically," says Cofounder Herm Diebler. "Early in the crisis we recognized that we are all in this together. We worked with clients and team members to understand their challenges and quickly implemented novel management practices. Some worked, some didn't, but flexibility was key."
Not only have the companies on the 2021 Inc. 5000 been very competitive within their markets, but this year's list also proved especially resilient and flexible given 2020's unprecedented challenges.
"During the pandemic, Verity's approach was to invest heavily in our people to come out a stronger company, says Cofounder Ken Traenkle. "As a result, we did not lay off a single team member, in fact we grew our staff by 25 percent. Our team has been challenged personally throughout 2020. Verity's investment into the physical, professional and financial wellbeing of its people has resonated with the current staff and, hopefully, future team members as well."
Verity has proven the truth of people drawing together in crisis—in its partnerships with its clients, its vendors and, most important, its internal teams. And those strong bonds have helped the development and construction services, brokerage and real estate investment firm maintain success through the pandemic.
"The 2021 Inc. 5000 list feels like one of the most important rosters of companies ever compiled," says Scott Omelianuk, editor-in-chief of Inc. "Building one of the fastest-growing companies in America in any year is a remarkable achievement. Building one in the crisis we've lived through is just plain amazing. This kind of accomplishment comes with hard work, smart pivots, great leadership, and the help of a whole lot of people."
In addition to being recognized as a 5-time Inc. 5000 firm, Verity is one of the fastest growing firms in Virginia and in the DC Metro area. Verity is recognized as a Northern Virginia Technology Council (NVTC) Data Center Vendor Champion, Reston Cornerstones Philanthropist of the Year Finalist, Greater Reston Business of the Year, and Dulles COVID Business Champion Nominee.
Verity is honored to once again be recognized by Inc. magazine. Verity extends a special thank you to their valued clients, business partners, and peers for their ongoing support, trust, and partnership. Also, Verity wishes to recognize the entrepreneurial spirit of their dedicated team members for their steadfast commitment to making clients successful.
ABOUT VERITY
Verity Commercial is a multidisciplinary firm that approaches the commercial real estate industry in three ways: development and construction services, brokerage and real estate investments. Our breadth of expertise gives clients more options and the perspective to make better decisions. Our fast-growing construction management practice focuses on three core industries: data center/ mission critical, life science and mixed-use projects. Our brokerage practice is geared toward clients that require strategic thinking along with transactional results. And our investment practice combines our market knowledge, strategic thinking and technical expertise to help real estate investors build a successful portfolio.
MORE ABOUT INC. AND THE INC. 5000
Methodology
Companies on the 2021 Inc. 5000 are ranked according to percentage revenue growth from 2017 to 2020. To qualify, companies must have been founded and generating revenue by March 31, 2017. They must be U.S.-based, privately held, for-profit, and independent—not subsidiaries or divisions of other companies—as of December 31, 2020. (Since then, some on the list may have gone public or been acquired.) The minimum revenue required for 2017 is $100,000; the minimum for 2020 is $2 million. As always, Inc. reserves the right to decline applicants for subjective reasons. Growth rates used to determine company rankings were calculated to three decimal places. There was one tie on this year's Inc. 5000. Companies on the Inc. 500 are featured in Inc.'s September issue.
About Inc. Media
The world's most trusted business-media brand, Inc. offers entrepreneurs the knowledge, tools, connections, and community to build great companies. Its award-winning multiplatform content reaches more than 50 million people each month across a variety of channels including web sites, newsletters, social media, podcasts, and print. Its prestigious Inc. 5000 list, produced every year since 1982, analyzes company data to recognize the fastest-growing privately held businesses in the United States. The global recognition that comes with inclusion in the 5000 gives the founders of the best businesses an opportunity to engage with an exclusive community of their peers, and the credibility that helps them drive sales and recruit talent. The associated Inc. 5000 Vision Conference is part of a highly acclaimed portfolio of bespoke events produced by Inc. For more information, visit www.inc.com.