Former Washington Football Player and Business Entrepreneur, Charles Mann, Joins Verity Commercial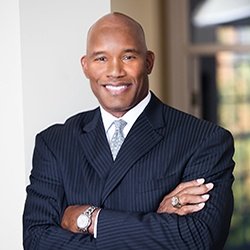 Recognized by Virginia Chamber of Commerce as one of Virginia's 50 Fastest Growing Companies in 2016 and recently recognized by Inc. 5000 as one of the fastest growing companies in the nation for two consecutive years, Verity Commercial welcomes beloved Washingtonian, Charles Mann, to their growing firm. Charles Mann brings over two decades of sales and business development experience to Verity Commercial.
Charles manages sales and business development efforts related to Verity's project management, brokerage, and investment services.
Charles managed daily operations and business development efforts of his government contracting and marketing business. He also aided in the business development efforts of companies such as University Health System, Alliance Engineers, and the Mechanical Design Group. As a consultant for an MEP engineering firm, he contributed to the firm's revenue growth of $15-million to over $100-million in three years.
Charles was appointed to the College Building Authority for the Commonwealth of Virginia by Governor Bob McDonnell in October 2013 and served as a member of the Board of Directors for Inova Health Systems and as Chairman of the Inova Alexandria Hospital Quality Committee.
During his career, Charles was aligned with some of the best-known local and national brands; ESPN, BET, WUSA, and WJFK radio as color analyst and reporter; and Strayer University, Passport Automotive, McDonald's, Diet Coke, and Swanson Hungryman as spokesman.
"Verity is very excited to welcome Charles," says Verity's Co-founder and Principal, Herm Diebler. "His 30+ years in the local area and impressive career, both on and off the field, makes him a valuable addition to Verity's team."
Charles is a former 12-year veteran of the NFL and four-time NFL Pro Bowl Player. His 83 regular season sacks combined with the 10 sacks he recorded in the NFL Playoffs place him among the elite players of the NFL. Charles was nominated for the NFL Hall of Fame 14 times and inducted into the Ring of Stars at Washington Redskins Fed-Ex Field. Charles is a proud member of the 70 All-Time Great Washington Redskins.
In 1993, Charles and Art Monk created the successful non-profit Washington, DC Youth Power Center, formerly known as The Good Samaritan Foundation, that tutors and develops inner-city youth to succeed in the community and workplace.
"Charles' active involvement in social and civic organizations exemplifies Verity's culture of giving back to the community", says Ken Traenkle, Verity's Co-founder and Principal. "With a reputation of integrity, good character, and a strong work ethic, Charles fits in great with Verity's team."
Charles was voted one of the "Washingtonian's of the Year" in 1993 and has been involved with organizations such as National Kidney Foundation, United Way and the Ronald McDonald Children's Charities, The Border Babies Foundation, the "Read to Achieve Program," "Why School is Cool" Program, The Metropolitan Boys and Girls Clubs, Children's Hospital, The Children's Cancer Foundation, and President Clinton's National Service Initiative Committee.
In 2016, Charles graduated magna cum laude from Strayer University with a MBA.