Verity Appears as 3-Time Honoree on the Inc. 5000 Fastest-Growing Companies in America List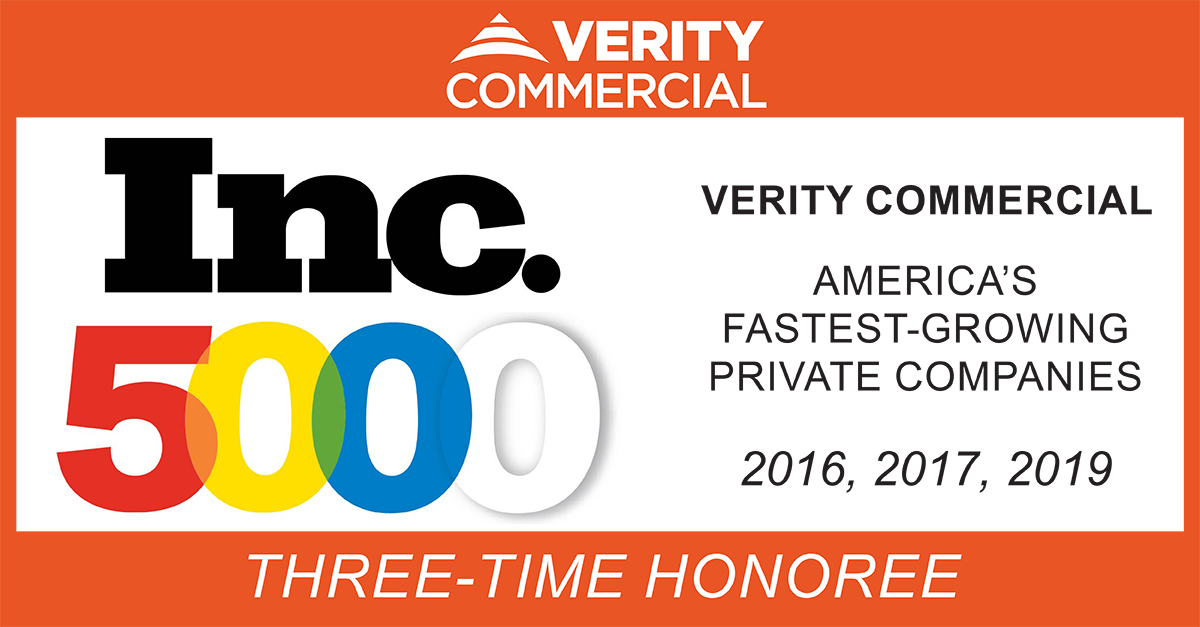 Inc. magazine revealed Verity Commercial as one of the fastest-growing private companies in America – landing Verity on the prestigious Inc. 5000 list for the 3rd time in 4 years. The list represents some of the most successful companies within the American economy's most dynamic segment – its independent businesses and their entrepreneurial success. With 80% sales growth over the last 3 years, Verity continues to exceed the national average for success.
Not only have the companies on the 2019 Inc. 5000 been very competitive within their markets, but the list as a whole shows staggering growth compared with prior lists. The 2019 Inc. 5000 achieved an astounding 3-year average growth of 454 percent, and a median rate of 157 percent. The Inc. 5000's aggregate revenue was $237.7 billion in 2018, accounting for 1,216,308 jobs over the past three years.
"Making our 3rd appearance on the most prestigious ranking for the nation's fastest-growing businesses is incredible," says Herm Diebler co-Founder of Verity. "Repeated success means we're doing something right and our clients are experiencing long-term success using Verity's approach. We wouldn't be here without them."
Verity's successful growth is credited to understanding the importance of real estate and its value to their clients' business, growth opportunities, and wealth creation. Also attributing to Verity's success is a team driven by a culture deeply rooted in trust and teamwork. Verity's team approach brings successful results to clients ranging from local business owners to delivering some of the most technically difficult and recognizable facilities in the Washington, DC metro area including data centers, laboratories, and large urban mixed-use projects.
"Verity's team plays a critical role in our success," says Ken Traenkle, co-Founder of Verity. "We work together sharing our expertise and knowledge with each other. The result – our clients have a team of diverse experts supporting and advising them. It's truly an impressive group. We couldn't have achieved this without them – thank you."
Inc. 5000's announcement follows Reston Chamber's news naming Verity 2019 ACE Business of the Year.
Verity would like to thank its valued clients, peers, and dedicated team members who made this recognition possible.
MORE ABOUT VERITY
Verity Commercial is a Reston-based commercial real estate advisory and investment company established in 2010. We bring extensive experience in brokerage, project and construction management, and investment. Verity enables business owners and executives to transform real estate from a necessary business expense into a strategic business advantage.
Verity was recognized by Inc. 5000 in 2016, 2017, and 2019 as one of the Fastest-Growing Companies in America and received the Virginia's Fantastic 50 Award in 2016 as one of the 50 Fastest-Growing Companies in Virginia. Additionally, we were a finalist for the 2018 Best of Reston and named 2019 Reston Chamber ACE Medium Business of the Year Honoree.
MORE ABOUT INC. AND THE INC. 5000
Methodology
The 2019 Inc. 5000 is ranked according to percentage revenue growth when comparing 2015 and 2018. To qualify, companies must have been founded and generating revenue by March 31, 2015. They had to be U.S.-based, privately held, for profit, and independent—not subsidiaries or divisions of other companies—as of December 31, 2018. (Since then, a number of companies on the list have gone public or been acquired.) The minimum revenue required for 2015 is $100,000; the minimum for 2018 is $2 million. As always, Inc. reserves the right to decline applicants for subjective reasons. Companies on the Inc. 500 are featured in Inc.'s September issue. They represent the top tier of the Inc. 5000.
About Inc. Media
Founded in 1979 and acquired in 2005 by Mansueto Ventures, Inc. is the only major brand dedicated exclusively to owners and managers of growing private companies, with the aim to deliver real solutions for today's innovative company builders. Inc. took home the National Magazine Award for General Excellence in both 2014 and 2012. The total monthly audience reach for the brand has been growing significantly, from 2,000,000 in 2010 to more than 20,000,000 today.
The Inc. 5000 is a list of the fastest-growing private companies in the nation. Started in 1982, this prestigious list has become the hallmark of entrepreneurial success. The Inc. 5000 Conference & Awards Ceremony is an annual event that celebrates the remarkable achievements of these companies. The event also offers informative workshops, celebrated keynote speakers, and evening functions.