Verity Congratulates BE&K and the Entire Bioprocess Innovation Center Project Team for Winning the ABC Carolinas Chapter Eagle Award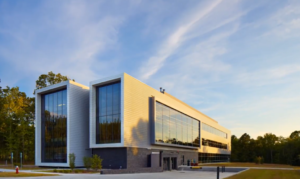 Verity Commercial congratulates BE&K Building Group and the entire Bioprocess Innovation Center project team for receiving the 2016 Associated Builders and Contractors (ABC) Carolinas Chapter Excellence in Construction – General Contractor Eagle Award. The award recognizes the first-place general contractor winner in the "Specialty Category, $10-25M" division.
Verity Commercial preformed project management services for this project which included complete site development management, BIM planning, and cost and quality control.
The award-winning Bioprocess Innovation Center is a three-story, 61,547-square-foot build-to-suit research and manufacturing facility in Research Triangle Park, NC. In 2016, the project also won the AIA North Carolina Design Award.
View the ABC Carolinas Chapter award video here.