Verity Commercial Helps Restaurant Tenant Secure 2nd Home at Nouvelle in Tysons Corner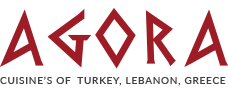 Verity Commercial helps Agora establish its second location – bringing this culinary Mediterranean oasis of DC to Tysons Corner. Oyku Hanna of Verity Commercial represented the tenant, Agora, in the deal. The 3,500-sf second location will bring a combination of Turkish, Lebanese and Greek cuisines and its award-winning wine menu to the Tysons Corner area.
"Finding space for Agora that supports and drives their business strategy was most important during the site selection process," says Oyku Hanna of Verity. "Nouvelle in Tysons is a great fit for Agora and I look forward to seeing their continued success at this location."
Nouvelle is a new mixed-use development located at the intersection of Westpark Drive and Jones Branch Drive in Tysons. It's a 26-story building with 6,588-sf of ground floor retail space and 461 residential units.
Learn more about Nouvelle and other leasing opportunities by contacting Verity Commercial.