Verity Helps Tenant and Landlord Create a Life Science Facility at UNC Lineberger Comprehensive Cancer Center That Is Saving Lives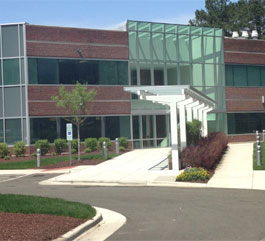 Verity Commercial helps tenant and landlord create a life science facility at UNC Lineberger Comprehensive Cancer Center that is advancing research and development to save lives.
WRAL.com reports that all three patients in one trial are experiencing great results. Two of the three patients are in remission, while the third, a 2-time cancer survivor, feels reborn. Read full WRAL.com news article here.
Verity Commercial assisted tenant, University of North Carolina (UNC) Lineberger Comprehensive Cancer Center, Chapel Hill, NC and landlord, Alexandria Real Estate Equities, in managing the design and construction of a fit-out facility. A critical aspect needed for this life extending research facility was modifying an existing two-story office building into sophisticated laboratory use. The design team successfully adapted the design to match the conditions of the existing building in a cost effective manner. Key aspects to meeting this design challenge included dedicated individual air handling units to each of the clean rooms and a HVAC control system used to achieve strict temperature and humidity requirements of each clean room.
Dave Miller, Principal at Verity Commercial said, "Seeing this facility project exceed its goals is what makes my work so rewarding. Knowing our work helped create a facility that is advancing research and development to save lives is inspiring".
Verity' project management services for this facility included preconstruction and construction management services, BIM planning, and cost and quality control.