Verity is Honored with the Fantastic 50″ Award – one of Virginia's Fastest Growing Companies"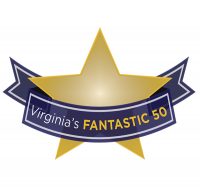 Reston – Verity Commercial, LLC was honored yesterday by Virginia Business Magazine and the Virginia Chamber of Commerce when it recognized the Reston firm as one of the top fifty fastest growing companies in Virginia. – See more at Virginia Chamber.
The Virginia Chamber announced the names of fifty of the fastest growing Virginia companies at its twenty first annual "Virginia's Fantastic 50 Awards Banquet" on April 28. More than 400 attendees participated in the banquet at the Westfield's Marriott to celebrate the success of these Virginia entrepreneurs.
Herm Diebler, Co-founder and Principal of Verity said, "We are honored and thrilled to be recognized by the Virginia Chamber as one of Virginia's fastest growing companies.  Recognition like this validates Verity's approach, to focus on our clients' business strategy not just the transaction.  Our growth can be attributed to our highly skilled team members delivering integrated real estate, development/construction, and investment expertise, singularly focused on our client's success.  Internally we are entrepreneurial and collaborative, and have broken down barriers that traditionally exist at larger firms".
Verity's three lines of business span the life cycle of commercial real estate, from concept and site selection, through construction and delivery.
"We create value for our clients throughout the real estate process" Diebler continued.  "And we could not have achieved this success if not for the tireless effort of our team and the continued support of our clients, Thank you."
To be eligible for the Fantastic 50 award, a company must be privately held, headquartered in Virginia, and demonstrate positive year over year revenue growth. Barry DuVal, CEO of the Virginia Chamber of Commerce states "The 50 companies being recognized are the ones who are leading success by raising personal incomes of Virginians, attracting top talent, and making their communities better places to live and work. We are pleased to honor the entrepreneurial spirit and hard work of these business ventures."