Verity Supports the 3rd Annual Cascades MelaNoMore 5K and Fun Run on May 7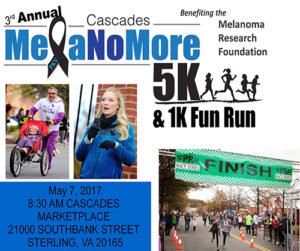 Join us in raising awareness and funds to make melanoma NO MORE!
The event benefits the Melanoma Research Foundation.
The 5K and fun run will be held on May 7, 2017 at 8:30AM at Cascades Marketplace, 21000 Southbank Street, Sterling, VA 20165.
For more information or to register visit http://www.melanomore5k.com.