NVTC Announces Verity Winner of the 2020 Data Center Supplier Champion Award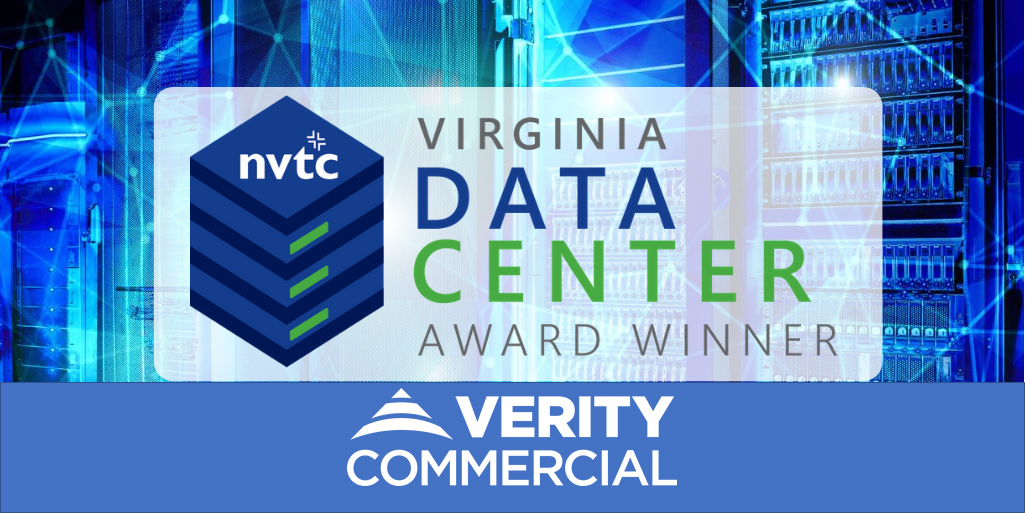 Northern Virginia Technology Council (NVTC) unveils Verity as winner of the 2020 Virginia Data Center Awards.
Northern Virginia Technology Council (NVTC) announced Verity Commercial as the winner of the Data Center Supplier Champion Award. The award recognizes extraordinary achievement and excellence in contributing to the world's largest data center market and Virginia's statewide economy.
"To be recognized for our contribution to the world's largest data center market is extraordinary," said Verity Co-Founder Herm Diebler. "I am extremely proud to play a small part in the largest data center ecosystem in the world. Team recognition is great, but we would not be here without the support of our clients, vendors, and friends of Verity. Whether we are working in Northern Virginia, Virginia Tidewater, Chicago, nationally, or internationally, we strive to be a trusted resource our clients can count on for exceptional data center development and construction services."
The 2020 Virginia Data Center Awards virtual event celebrated the considerable growth and contributions of Virginia's data center industry. Various award categories recognized data centers that implemented innovative construction projects, energy efficient practices, or impactful community engagements. Also, the awards honored vendors and individuals who have advanced the data center sector or championed the industry.
"NVTC is proud to recognize Verity Commercial for their remarkable achievement as well as their contributions to the overall success of the region," said Brad Schwartz, Acting President and CEO of NVTC. "When NVTC first launched our Data Center and Cloud Committee in 2011, our intention was to help support, grow and advocate on behalf of our data center sector. We are proud to be part of an industry that continues to generate high paying jobs, drive impressive tax revenue and serve as strong community stewards for the Commonwealth."
In addition to this honor, Verity was recently recognized by Inc. 5000 for the 4th time as one of the Fastest Growing Companies in America. Verity has also been recognized as  one of the fastest growing firms in Virginia and in the DC Metro area, and was named Greater Reston Awards for Excellence Business of the Year.
Verity congratulates all 2020 winners and finalists, and thanks its valued clients, peers, and dedicated team members who made this recognition possible.
Click here for the full list of award categories and the winners.
ABOUT VERITY:
Verity Commercial is a multidisciplinary firm that approaches the commercial real estate industry in three ways: development and construction services, brokerage, and real estate investments. Our breadth of expertise gives clients more options and the perspective to make better decisions. Our fast-growing construction management practice focuses on three core industries: data center/ mission critical, life science and mixed-use projects. Our brokerage practice is geared toward clients that require strategic thinking along with transactional results. And our investment practice combines our market knowledge, strategic thinking and technical expertise to help real estate investors build a successful portfolio.