Webinar Event: Coming Out of the Pandemic – A Discussion on Key Business Issues & Outlook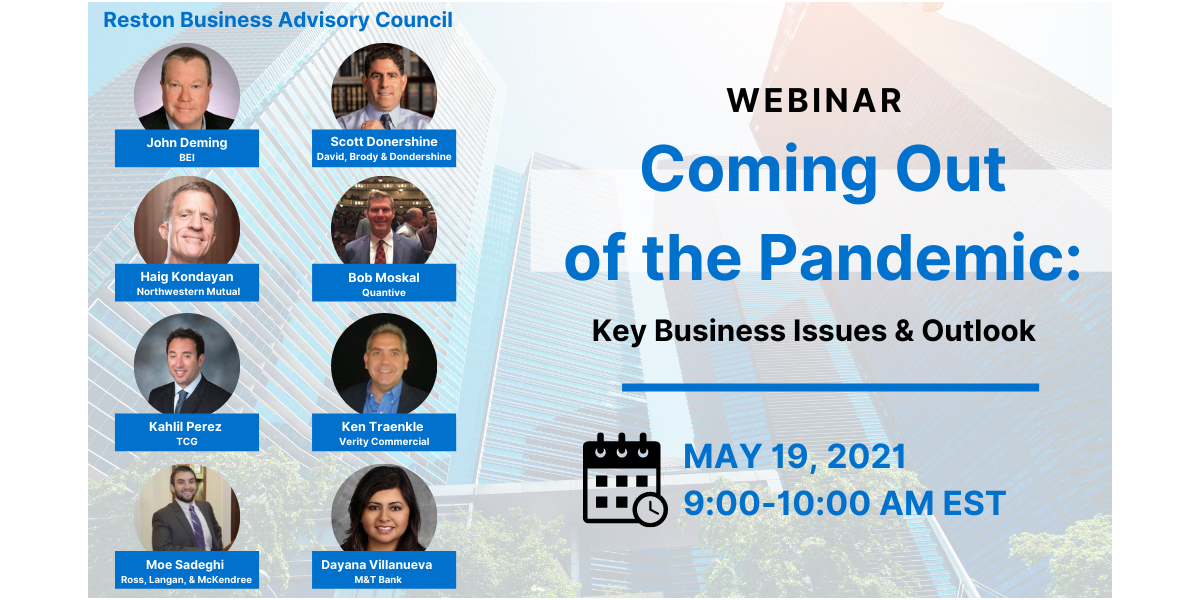 If you missed our panel discussion on May 19, 2021, would like to listen again, or share with someone you know, here is the link to the recorded discussion.
It has been a year of struggles but also an opportunity as resiliency has become the new norm. But, what new challenges will businesses face once the pandemic winds down? Will life return to pre-pandemic norms? Or, will the manner in which we conduct business change forever?
The members of the Reston Business Advisory Council, with audience participation, look to explore the following key areas:
(1) How will new technologies be employed?
(2) What will the new norm be for commercial leasing?
(3) How will governments look to address budget deficits?
(4) What is the outlook for the economy and financial markets?
(5) How will M&A activity be affected?
(6) What are the looming tax & business succession changes?
(7) How will insurance & employee benefits costs be affected?
SPONSORED BY:
The Reston Business Advisory Council is a collaborative group of professionals working together to provide their clients with the resources they need to navigate business and personal decisions and transactions by referring trusted experts across a variety of fields.
Members include:
John Deming, CEO at Business Engineering, Inc. (IT support)
Scott Dondershine, Esq., CPA at David, Brody & Dondershine, LLP (business, tax & estate planning law)
Haig Kondayan, CFP, Wealth Management Advisor at Northwestern Mutual (wealth management)
Bob Moskal, Quantive, (M&A, exit planning and business valuations)
Kahlil Perez, The Capital Group (insurance/benefits brokerage services)
Moe Sadeghi, CPA, Ross, Langan & McKendree, LLP (tax and business accounting)
Ken Traenkle, Co-Founder, Principal at Verity Commercial, LLC (commercial real estate)
Dayana Villanueva, M&T Bank