Skip Dawson
Principal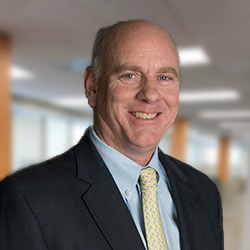 Skip has more than 25 years of real estate experience in the local markets.
As one of Verity's principals, he focuses on building the investment/sales/transactional platform for Verity and its clients, maintaining relationships with former clients, and providing operational management support.
Prior to joining Verity Commercial, Skip was Executive Vice President/ Chief Operating Officer for First Potomac Realty Trust, a publicly traded real estate trust located in Bethesda, MD. Skip was responsible for the day-to-day operations, which included leasing, property management, construction, development and marketing for the firm from 1998 through 2013.
In 2003, Skip was involved with the company's Initial Public Offering. During Skip's tenure, the company grew from owning less than 1 million sq. ft. to over 14 million sq. ft. of properties located in Baltimore, Suburban Maryland, Washington, DC, Northern Virginia, Richmond and Chesapeake. By 2012, under Skip's direction, First Potomac Realty Trust generated annual leasing revenue over $140 million, executed on an average of over 200 leasing transactions a year ranging from 1,500-sf to 250,000-sf.