Commercial Real Estate Transactions Need Informed Guidance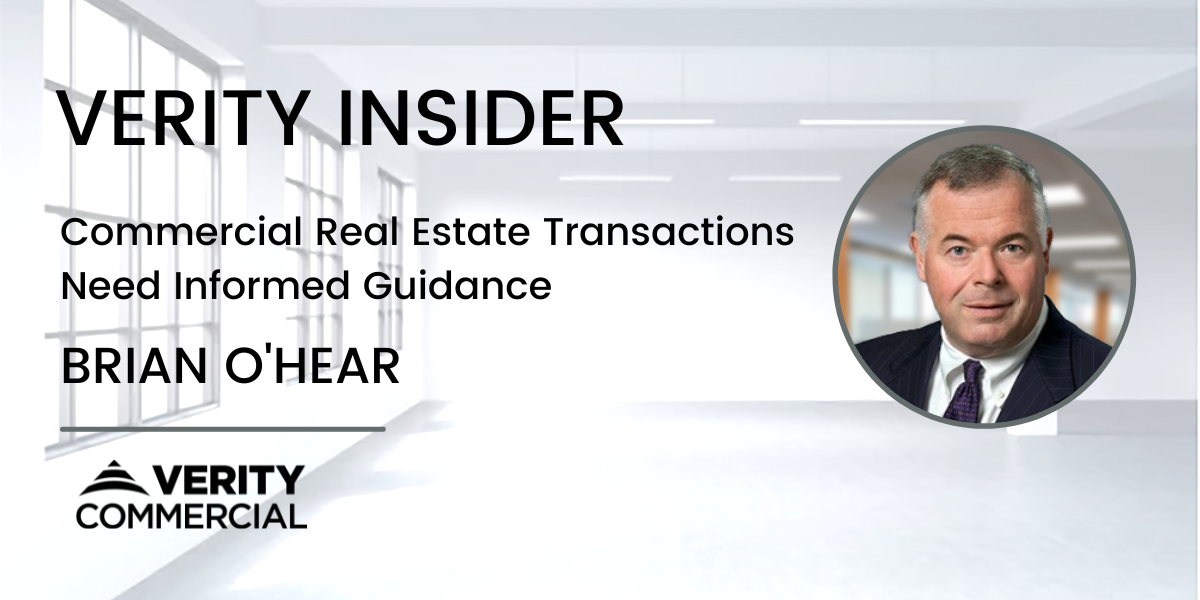 It is safe to say that the only constant in commercial real estate is change. This is especially true as we continue to emerge from the grip of the global pandemic, only to face such challenges as climbing inflation–with the havoc it brings on interest rates and pricing–a potential recession, and a supply chain disruption that is wreaking havoc on construction timing and costs.
"Just as a good baseball team needs a coach, investment entities in commercial real estate need steady-handed guidance through these challenges," says Brian O'Hear, CCIM, Verity Commercial's leasing and sales advisor. "This is especially true of smaller investment firms and first-time investors who want to take advantage of the superior value enhancement that carefully selected commercial real estate can achieve when compared to such alternatives as the stock market."
Himself a veteran of multiple economic downturns, Brian O'Hear points to the shifting values of virtually all real estate food groups due to the one-two punch of the pandemic and the current economic uncertainty. Office occupancies, for instance, are still struggling as tenants weigh the relative benefits of going to the office or working from home, decisions that directly impact values.
Tenants that are looking to get back to the formal office environment can now take advantage of the upgrades in amenities that owners and developers are enacting. They can also leverage the low-rental-rate environment, and flights to quality–from Class B space to A–are a current commonplace.
By comparison, retail is growing again as more shoppers put down their devices and look to the experience of brick-and mortar stores.
But those same shoppers haven't abandoned online retail altogether, a major driver of the growth–and growth in value–those industrial assets enjoyed during the pandemic. This is especially true of distribution centers, which are cropping up at a breakneck pace as online shoppers increasingly look for same-day delivery.
"My first experience with downturns was the early nineties," O'Hear says. "As an example of how quickly the market can shift, Tysons Corner at the time had some 2.5 million sf of inventory come online." But absorption couldn't keep up, and when the economy went south the area was left with some 1,500,000 feet of overbuilding and a swamp of foreclosures.
In terms of the current economic uncertainty, conditions are impacting both the debt and equity marketplaces. Yields on the 10-year Treasury bill, for instance, are no longer what they were, and now, "we're seeing an inverse curve, and five-year, two-year and six-month T-bills are delivering a higher percentage rate than the 10-year," he says.
However, in a sense, "Equity is more expensive than debt," says O'Hear. "If I have land, and I want to put an office building on it, I may need investors to come in and help me." That means potentially compromising on yield expectations. "If I take their money, they may expect a return that's going to be at odds with my vision for the project."
At the same time, there are partnerships, synergies, which can help investors of all stripes get their projects over the finish line. "Maybe the chosen marketplace is inappropriate for a particular use," suggests O'Hear, "or you need an expert for a particular application such as interior design or elevator fit outs. Such connections are a perfect challenge for your project advisor, your coach."
That is why it is vital to check out the credentials of that advisor, their time in the market, their range of projects, their vendors and other partnerships.
Here is the key point, in volatile markets conditions change rapidly, but there is always an advantage to be gained in assessing and managing that change to your advantage. Be bold in the face of change and your rewards can be great, especially with the support of the right advisor. The good news is that the Federal Reserve Board continues to tweak interest rates in an effort to stem the tide of inflation, and the latest intelligence indeed points to a short and shallow period of economic uncertainty.
So, expect more change ahead, and ultimately, change for the good of the marketplace as our efforts to make the most of the uncertainty lead us down the road to greater economic stability.
"Looking forward, deals will get done," says O'Hear, "but navigating those changing waters is best done with the support of an advisor who has the experience to read the currents."
# # #
Categories: