How the Cluster Effect Can Maximize Your Next Data Center Project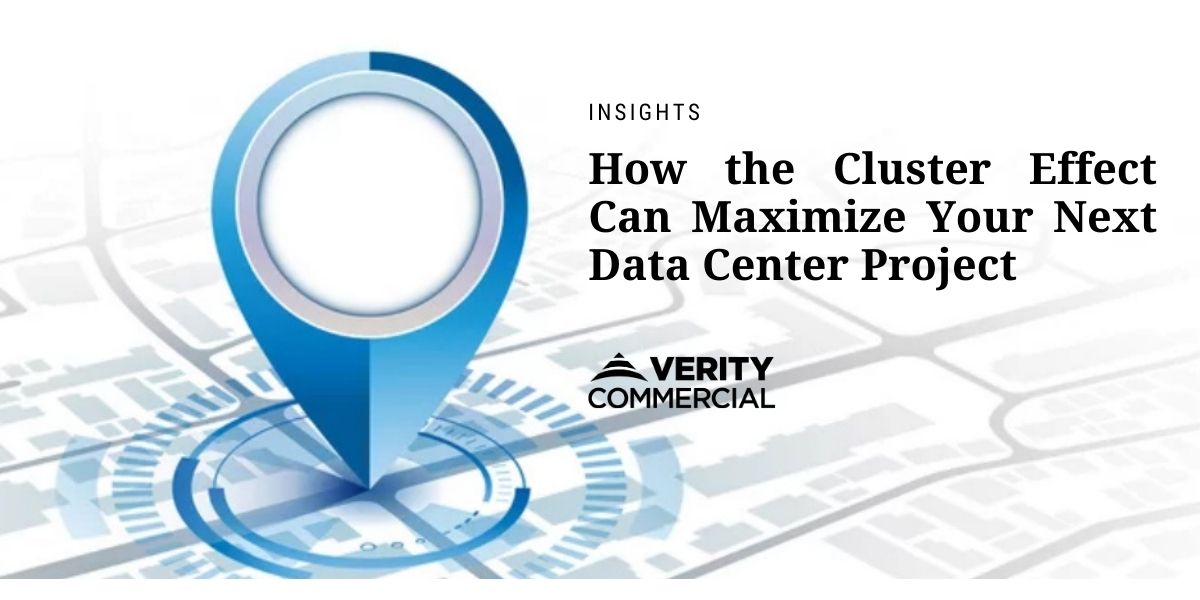 The old adage about unity in numbers holds true for data center creation. The various benefits of locational decisions were a major part of Verity Commercial's recent blog on the Big Nine critical considerations for every developer prior to breaking ground. Let's do a deeper dive into those locational questions.
There are multiple benefits to a wise locational decision, not the least of which are the synergies with other data centers, the availability of local, trained talent, the power availability and the cost of that power. There's also an economy of scale that comes with joining an established cluster, namely, the ability to "plug in" to an already established infrastructure.
As Data Center Knowledge states, "Ideal connectivity depends on multiple redundant fiber connections to major bandwidth providers, and the only way to provide consistent and reliable bandwidth at the volumes required by an enterprise-grade data center is to build lots of connections to lots of different network providers.
"The facilities of these providers tend to cluster together at major peering points, and when data centers are located in close geographic proximity to Internet Exchanges, or peering points, the organizations using them will benefit from low-latency and multiply-redundant bandwidth."
The Top 10 Data Center Locations, Revisited
In a recent Deep Dive into another of the Big Nine consideration (the availability of local incentives), we listed the Top 10 data center locations in the US:
Northern Virginia / Washington DC
Santa Clara / San Jose / South Bay, CA;
Northern New Jersey;
Chicago;
Dallas / Fort Worth;
New York City;
Phoenix;
Seattle;
Los Angeles; and
Atlanta.
Of course, these locales made the list for a reason. As diverse as these cities are culturally, they all share attributes critical to data center development. They have strong infrastructure, availability of talent, and robust utilities. They also gain by their proximity to other major drivers of capital, such as the government in Northern Virginia or technology in Silicon Valley.
By its nature, a data center doesn't have the employment density of a corporate office. What it does have are highly trained individuals, who have to be on hand or on call 24/7.
It stands to reason then that where there's a cluster of data centers, the availability of such talent is present and waiting. In many of the top 10, it is not a coincidence that there is also a nearby university setting, pumping a constant stream of tech-enabled professionals into the local market. Boots on the ground not only provide the security of server performance, but they also provide scalability should the development plan call for multiple centers downstream.
That scalability comes into play with more than just staffing. Clusters certainly make it easier for visiting HQ denizens–and (more important) potential investors and tenants–to view the span of your operations.
Not All Utility Providers Are Built the Same
Clusters are also a great indicator of the state of the local utilities. Not all are created equal, and certain areas–especially those areas where you're thinking of pioneering–may not be up to the task. Also, some utilities are public entities, while others can be private, especially in this era of green power alternatives, or public/private partnerships.
For instance, in Quebec, where Verity has recently completed a project, Hydro Quebec is a state-owned enterprise that derives its power from renewable sources, just as the name implies. In our home base of Northern Virginia, depending on the site location, developers either work with a public utility company, Dominion Energy, or NOVEC, a local cooperative. The difference here is in their approach to working with developers and how they address upfront costs and downstream charges. Your best bet is to engage all of the local utilities in such conversations before shovels hit the ground.
There's nothing really mystical about power companies. They sell their product like everyone else, and some are more willing to work with incoming developers. Such is the case in Portland, OR. Portland General Electric and the Eugene Water and Electric Board are both offering clean energy choices to customers, and they're actively promoting their products, as Verity discovered during recent projects.
Are the Local Utilities Up to the Challenge You Bring? 
But are they up for the challenge you present? If you're going to invest $500 million on a data center, you want to do it in a location where you can power up confidently through long-range plans. Is that more likely to happen in Loudoun County, VA or Seattle or in some as yet undeveloped location?
Clearly, where you build is as important as what you build. Clustering your next data center project allows you the greatest flexibility, the most synergies and the clearest path to success. As we said at the top, there's unity in numbers. Let Verity Commercial help guide you to your next data center location.
# # #
Categories: