Office Environments Take on New Relevance for Corporate Occupiers Post-COVID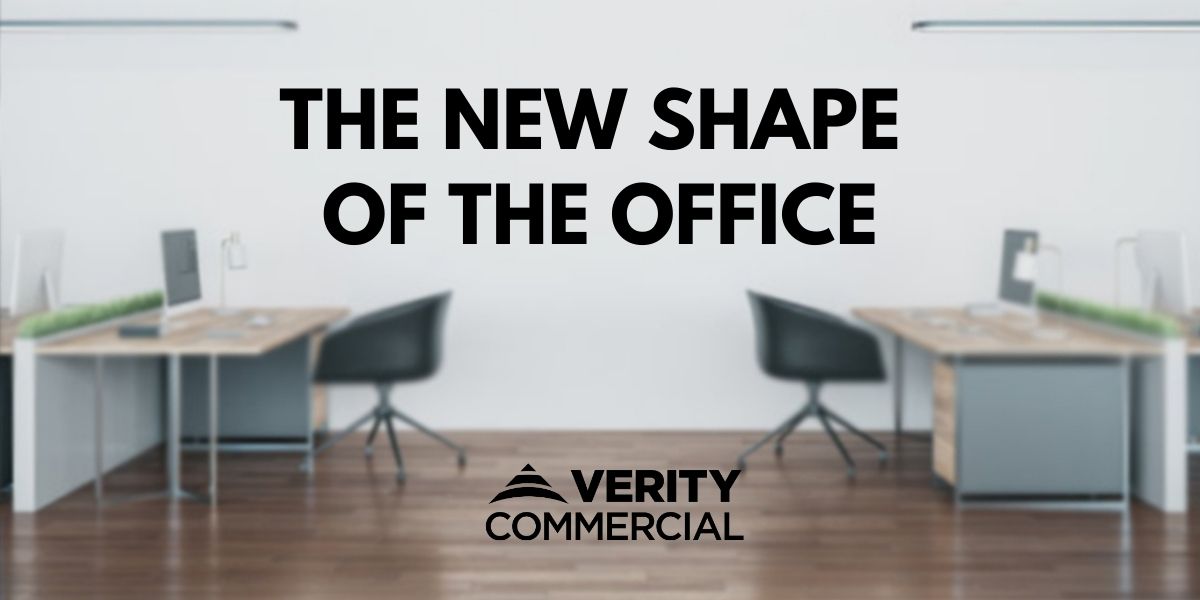 By now it should come as no surprise that the shape of the office environment is changing, not just here in the US, but globally, as a result of the COVID-19 pandemic. But don't be fooled by headlines you might see in the consumer press; the office is not dead. It's merely adjusting to a new reality.
In fact, according to a recent groundbreaking survey from the Building Owners & Managers Association International (BOMA), 77 percent of C-Suite executives report that their offices are vital to continuing successful operations. We should note here that the survey went to more than 3,000 US corporate decision makers. That bodes very well for the future health of the office.
Working From Home Can Be a Double-Edged Sword
Of course, that's not to say that there won't be changes, changes that go far beyond social-distancing tape on the floor and hand sanitizers virtually everywhere. Work-from-home (WFH) options were growing long before COVID-19 made the headlines. However, the lockdowns and quarantines that remain so much a part of our lives have challenged corporate decision-makers to fold into their strategies more liberal WFH policies, a reality that's having a major impact on occupancies.
It's not surprising that there's an inverse relationship between WFH initiatives and building occupancy. As one goes up the other goes down. Taking the Washington, DC metro area just as a sampling, CoStar in its 2021 DC Metro Office Market Report, puts the overall vacancy rate above historical averages by 3.4 percent.
Numbers might change, but similar scenarios are being played out around the nation. In fact, the DC metro might have been impacted least of many US markets, buoyed by its traditional role as a magnet for corporates. According to CoStar, the local outlook was brightened by a string of West Coast tech firms expanding in the Washington DC metro. Within the past year, Google leased 165,000 square feet in Reston, Facebook opened a 70,000-foot office in the District and Microsoft signed a lease for nearly 445,000 square feet at the Reston Town Center.
But here's a basic truth about the extended WFH protocol of the past year that is critical to corporate decision-makers: The extended quarantines of 2020 are driving your workers stir crazy. What was novel a year ago has grown pretty weary, and they hunger for in-person interactions with their colleagues and the collaboration, camaraderie and creativity that come with it. Somewhere in the middle, we will strike a happy medium between WFH and office work.
Consider the Softer Side of the Employee Experience
As a result, decision-makers have to opt for more locational choices. But what happens when those workers choose a day at the office? As Gallup states in a recent report, "To create a best-in-class workplace, leaders need to consistently deliver on the fundamental, unchanging elements of a great employee experience."
Amenity spaces help. Much like the WFH phenomenon, cappuccino machines, bike paths and fitness centers have been around for decades, well before the pandemic.
What's changed is the imperative. As Gallup reports: "More than ever, leading an engaged and productive workforce demands an increased emphasis on holistic employee wellbeing, with leaders who are committed to supporting" what the firm calls the five elements of wellbeing. (They extend from Hiring, Onboarding and Performance to Development and Overall Wellbeing.)
Clearly, the term amenities means much more today than just keeping the coffee filters stocked. For employees and clients alike, the bulk of surveyed C-Suite decision-makers told BOMA that "Most successful businesses are based on human connections, . . . and environments which facilitate such interactions are essential to keeping organizations productive."
Can More Amenities Co-Exist With Leasing Plans Going Forward?
The more problematic question is how to provide amenities–the physical ones, at least–so necessary to the so-called "employee experience" while rejigging your office lease terms. According to the BOMA survey, 56 percent of the C-Suite occupants are planning to renew their current leases. On the other hand, a full 61 percent are rethinking their space needs, and 54 percent of those would make cutbacks. Interestingly, given the times, nine percent are planning to grow! (Given the wording and the sample, survey answers don't always add to 100 percent.)
To the extent that common areas play a role in gathering and collaboration, the biggest cutbacks are planned here by 36 percent of the respondents. Rounding out the top five targeted reduction areas are: private office size (28%); the number of private offices (27%); going to a full open-office layout (24%); and reducing the size of conference rooms (24%).
But note the yin and the yang of two of those responses. On one hand, common areas might be reduced. But opting for complete open layouts will maximize employee flow and congregation–for both collaborative work and simply to share a cup of coffee–at a socially acceptable distance, of course.
COVID-19 certainly has had an impact on the office, an impact that will be seen for years to come. But much of what is happening now is also the result of discoveries we as an industry have been making for years in culture, engagement and productivity.
Two constants remain in this era of change. First, as the BOMA survey shows, the office is central to enhancing all of those goals.
But more than ever, creating and maintaining that environment takes ongoing vigilance on the part of corporate leaders. And therein we find the other constant, which is, as Gallup states, "employees' fundamental need for an authentic, meaningful employee experience." Environments that succeed here might be the biggest change to come out of the pandemic.
Real estate is more than a product. It's a service, delivering on those expectations. Contact Verity Commercial today to discuss all of these office trends, and how we can help shape your post-COVID-19 productivity and engagement needs.
# # #
Categories: