Rush to Biotech: Opportunities Are Rich for Developers Looking for Biotech Diversity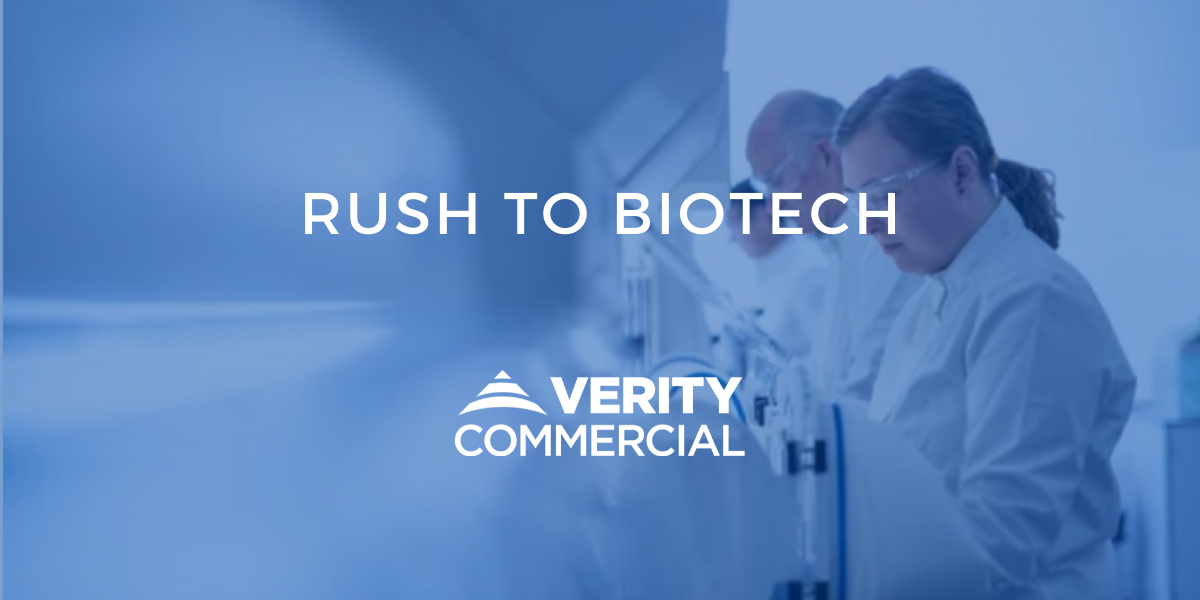 The pandemic has had a negative effect on many real estate segments, to the office and retail sectors in particular.
But there have been exceptions, exceptions that actually found renewed purpose—and therefore activity—over the course of the past 12 months. The life science sector is one of those areas. Life science was doing well before COVID, and now with the virus mostly in our rearview mirror, biotech is experiencing a strong influx of funding and product demand. As a result, we're seeing record low national vacancies and a corresponding acceleration of rents.
As a result of the economic upheaval caused by the pandemic, the Federal government is issuing funds on a nearly unprecedented scale for relief to both individuals and businesses. This is having a profound and positive impact on the capital markets, which are now more aggressive than ever in investment activity in life sciences.
The combination of demand and available capital is driving many in the real estate community to turn from their traditional mainstay products to diversifying by adding biotech to their capabilities. But where and how?
In the Washington, DC MSA, the logical location is the traditional I-270 corridor from Rockville to Gaithersburg, MD. I-270 has been the area's traditional life science hub and is in fact one of the nation's top five life science clusters. Not surprisingly then, it mirrors national trends with vacancies at near-record lows. Up and down the corridor, we're seeing full-building tenants that include such names as Novavax, REGENXBIO and TCR2 Therapeutics, drawn by the corridor's rich amenities and its proximity to the National Institutes of Health (NIH).
The growth of biotech is not limited to Montgomery County. In Frederick County, Kite Pharma is opening a biologics manufacturing facility in Urbana to produce T-Cell and T-Cell Receptor (TCR) therapies for the treatment of cancer.
Knowing What You Need to Know . . . And For Which Tenants
Which brings up the question of understanding client mission. To be successful, developers must have an understanding of the unique requirements of life science users. This broad discipline has specific building-performance requirements that may include column spacing to accommodate lab modules, vibration criteria, emergency power provisions, acoustical considerations, lab-waste neutralization and a host of mechanical criteria including air changes per hour, fresh air requirements and exhaust for fume hoods.
Then there's the design/cost balance. Some users will require robust mechanical and electrical systems such as those required by the NIH. However, many tenants don't need this high level of design, which of course translates to lower base building costs. The challenge is to design the base building with the flexibility to meet needs across the spectrum of users. This flexibility will allow the building to compete fully, no matter the potential need.
Another key factor in biotech asset development is speed to market. While developers aren't building large lab/office base buildings on a speculative bases just yet, they are moving forward with partial lease commitments in the 40-to-60-percent range. As biotech demand increases, the developer who can deliver quickly has the advantage.
Some are taking their designs through county approvals prior to leasing in order to position themselves for competitive delivery dates. Both Montgomery and Frederick counties have made accelerated approval processes possible in order to bring in biotech tenants and the great jobs they provide. This cooperation with the development community is a good thing. However, this is more than an intraregional competition. This region is competing with other biotech communities including Cambridge/Boston, North Carolina's Research Triangle Park, San Francisco Bay and San Diego Metro areas.
Verity is uniquely positioned to assist development firms with their biotech capabilities. We have rich experience in managing the design, construction and leasing of all sorts of health science properties, from site selection through entitlement, design, leasing and construction.
Get the competitive edge, reach out to us today to discover how we can help you simplify the complex.
# # #
Categories: