Opportunities for Success Outweigh the Challenges of COVID-19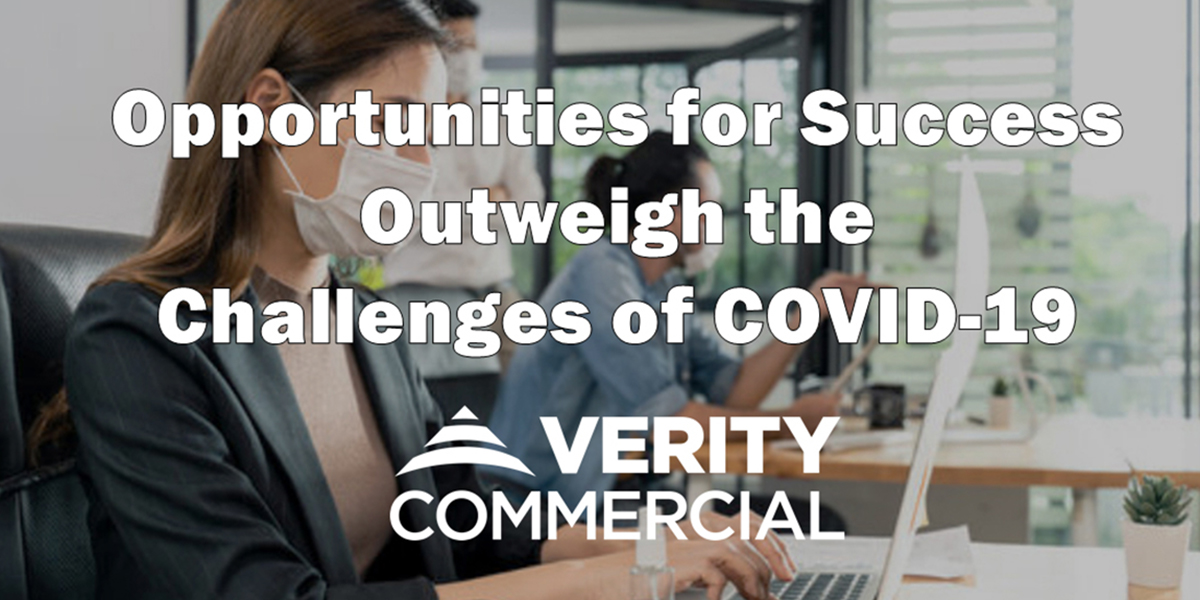 Reston, VA-based Verity Commercial banks on a multidisciplinary strategy and the engagement of its people to survive and thrive during the pandemic.
COVID-19 has engendered a new cliche: "We're all in this together," implying strong bonds of people drawn together in crisis. But the thing about cliches is that there's solid truth behind them. Reston, VA-based Verity Commercial has proven the truth of the saying in its partnerships with its clients, its vendors and, most important, its internal teams. And those strong linkages have helped the development and construction services, brokerage and real estate investment firm maintain success through the downturn.
That's not to say that the pandemic was without its challenges. But a multidisciplinary business platform and a strong focus on the wellness of its people and clients were key to maintaining stability and even growth. "Yes, some of our business declined," says Cofounder Herm Diebler frankly. "But at the same time, others that we had committed to years ago started to pick up, to the point that we're on track to match or even surpass last year's overall performance."
On one hand, the brokerage business slowed in the face of potential tenants hunkering down in place. "Landlords didn't want to meet, and tenants didn't want to tour buildings," explains Cofounder Ken Traenkle. But, Diebler adds, the up-and-coming verticals of life science and data center construction exploded as the nation ramped up both its awareness of health and safety and online commerce, and the firm has taken on more work this year as a result. The third slice of Verity's multidisciplinary pie is its development business. While the pandemic spread, Verity already had projects in the planning stages. Having projects moving forward in a market where many projects were put on hold, allowed for more construction price competition.
As a result of the businesses that ramped up, "We didn't have a single layoff," says Traenkle, an achievement that's totally counter cyclical in the midst of the downturn. "In fact, we grew our team by nearly 20%, and since we continued to win work and get business despite the economy, we could keep our people energized, engaged and informed." He also sees that capability as a key to Verity's future growth, both in terms of new clients and, to address their needs, its expanding employee base.
"We recognized at the very beginning of the pandemic that, more than ever, we needed to maintain our people-first philosophy," says Traenkle, "to be a place where people choose to work." An engaged staff, of course, translates into client satisfaction.
Which is a philosophy that resonated with both current staff and, as Verity sees it, future team members as well.  "Like everyone, our people have been challenged personally throughout the pandemic," says Diebler. "So we saw the necessity of enhancing our payroll structures and our benefits package." That includes improvements to medical, dental and accident insurance as well as increased brokerage commission splits." The firm even provides, at no charge, COVID test kits for any employee who wants them.
Concerning the commission splits, while other firms were decreasing resources to cover declines in revenues, Verity was increasing its splits to its agents. Traenkle explains that, "Our brokers were being negatively affected by the pandemic, and the splits were a great additional way to assist them."
"Putting family and people first was what I was looking for when I joined Verity Commercial," says Verity Leasing & Sales Advisor Charles Mann. "Verity captured that aspect right from the start, so it was no surprise that same genuine and endearing characteristic rang true during the COVID pandemic. Practicing what you preach and doing the right thing in business are hard, especially in stressful times. But when the cofounders and the entire team at Verity embody integrity, that's a rare and pleasant surprise."
Retooling for a New Challenge
The onset of the coronavirus caught everyone by surprise, and it forced companies around the globe to pivot from strategic execution to maintaining business and keeping people safe. Leadership of Verity quickly took stock of what was needed, including the messaging, the upgrades in technology and the above-mentioned staff and client support that would not only maintain stability but hopefully, also engender growth.
Traenkle breaks that process into three chapters: Immediate needs, next steps and future plans. First, of course, was ensuring systems were in place to assist back-office operations to pivot to working from home and ensuring that everyone had free access to personal protective equipment. (Given the mobile nature of their disciplines, most brokers and construction people were already remotely hooked up.)
Messaging was key from the outset, and the cofounders both state that the most important message was to stay calm. "We had to approach this with clear heads," says Traenkle, "and it was important to relay that message to our teams as well as to our vendors and clients." The firm also used the opportunity to upgrade its website, this as an outreach tool for all stakeholders, internal and external. Much of its COVID-19 messaging was folded into the revamped site.
"We also triaged our business and looked at where we stood and what the financial threats were," he continues. "And then we looked at operations."
Verity was already in the process of upgrading much of its IT infrastructure, much of which centered around the adoption of the Microsoft 365 cloud-based platform. The application helped optimize its file sharing and accounting systems as well as its video conferencing capabilities.
Traenkle notes that he initiated weekly one-on-one calls to everyone on the brokerage team to ensure their comfort levels in the new environment. This was especially needed as Verity advisors shifted priorities to take on the additional task of guiding and assisting their clients with the government-sponsored PPP loan program. These came in addition to the regular group meetings, first on Zoom, and then via 365, to keep all stakeholders apprised of changes to local, state and CDC protocols. In itself, this was a massive undertaking, given that Verity has offices in Virginia and Illinois; staff members who live in Washington, DC, Maryland and Virginia; and projects throughout the country.
Making Sense of Chaos
"Every state has different ideas of what 'essential business' means," says Diebler. "Determining which construction projects had to be shut down and which could proceed entailed a lot of research. Then we had to coordinate with our general contractors on such issues as social-distancing guidelines, re-sequencing work shifts and extending construction schedules."
As all crews adjusted to the new and varied state and local protocols, an interesting trend developed, says the cofounder: "We began taking the best-in-class procedures of one GC and communicating them with others. Eventually there was a lot of information sharing among competitors to keep all our projects moving forward."
Breaking the news of shifting budgets and schedules to clients was a delicate maneuver. "We needed to be hypersensitive in our communication with them," says Diebler. Of course, clients were facing their own internal struggles with the pandemic, underscoring the notion that everyone is in this together. "We shared with our clients what others were going through so they didn't feel like they were experiencing it alone," says Diebler. "And we gave them options. With options they have control, and with control, people can make better decisions."
And providing that control for clients and staff alike is an approach that the cofounders believe lays the foundation for Verity' future. "Investing in our people is investing in our future," Traenkle concludes. After all, we're all in this together.
# # #
Categories: