Real-Time Trade Resource Technology Can Reduce Project Risk and Cost While Improving Communication, Safety, and Efficiency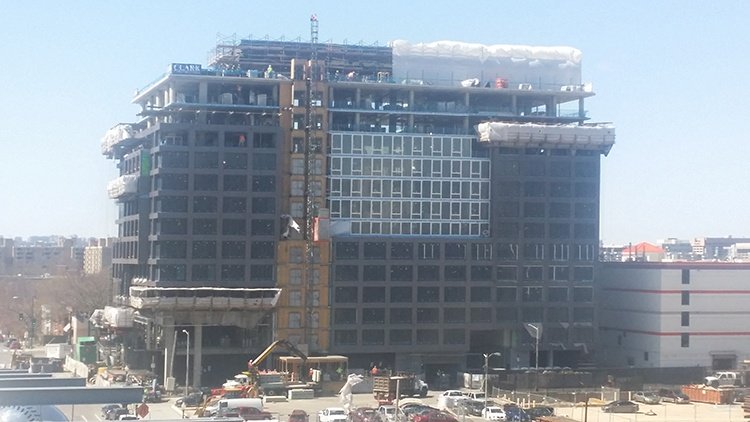 Are you looking for ways to reduce risk and cost while improving safety, communication, and efficiency on your next project?
Verity Commercial is working with the latest real-time trade resource technology at 1221 Van Street (picture above) and West Half Street projects in Washington, DC.
Take your project to the next level by improving cost control, efficiency, risk management, and decision-making with the latest technology in real-time trade resource reporting and analytics.
Consider some of the following common project challenges:
One subcontractor failing to staff your project as planned can negatively impact the work plan and productivity of dependent subcontractors.
Often the general contractor and other key project decision-makers are unaware of a project issue until it's a problem.
Many projects experience unexpected delays due to weather, manpower shortages, material delivery delays, unforeseen conditions, or owner generated changes in scope.
Real-time trade resource programs use the latest technology in project reporting and risk management. The program uses site based positional technology to identify exactly who is onsite at any time and translates the analytical data into a valuable project management tool. This information is instant, live, and real.
Verity Commercial is working with this latest technology at 1221 Van and West Half Street projects in DC through Eyrus. Eyrus provides the software and works as a site hardware to gather information in real time on construction projects, reports local Fox5 News. 1221 Van and West Half Street projects are two of about 20 projects in the DC metro area using Eyrus' technology.
By using real-time trade resource technology, you and your project team can:
Collaborate. Project management, general contractors, and trade contractors are using this system to better coordinate and manage the work.
Strengthen project management planning and tools. Identify project trends much sooner than you could through conventional daily construction reports. The approach is designed to assist the entire team in managing their resources and time while using real-time trade resource technology as a planning tool.
Address issues quickly. Quickly address issues before they impact schedule or cost. By analyzing real time data, you can make more informed decisions about how to address the issue.
Minimize risk. Instantly identify the difference between planned and actual manpower. Identify late starts and manpower shortages in each trade. This information is shared with the project team in real time and allows the responsible party to respond with a recovery plan.
Reduce cost. Identify the true impact of unexpected events. You can better analyze the schedule impact and cost of change orders. It will assist in accessing the actual hours required in implementing the associated recovery plan. In addition, you can accurately track labor associated with authorized time, overtime, and material change order work.
Increase safety. Verify that workers have vacated the site in the event of a site evacuation – a valuable tool in times of crisis.
Improve financial reporting. Tailor the real-time trade resource program to provide specific project information to owner management and lending institutions.
Enhance efficiency. Efficiently assemble manpower information. You can structure reports and protocols that allow team members to quickly react project issues. It enhances communication and teamwork throughout the life of the project and increases project productivity with better results.
Let Verity's experience using this latest technology help you reduce project risk and cost and improve communication, safety, and efficiency on your next project.
Categories: