It's "spooky" what you didn't know – Tips on preventing tenant's remorse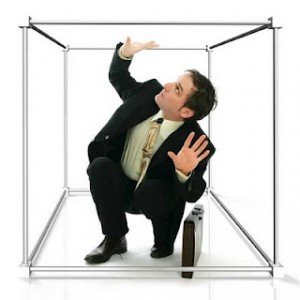 Only weeks ago, you signed that five-year lease for your company's new office suites.  Today, your employees sit at their desks attempting to work while the walls reverberate around them.  And every day beginning at 11:00 am, their eyes start welling up with tears from the fumes wafting up through the ventilation system.  You didn't realize that the yoga studio next door doubled as a Kung-Fu classroom, or that the Middle Eastern restaurant on the ground floor served spicy lunch specials when you were signing that tenant contract.
These are just a couple of very real examples of site selections gone wrong when you fail to do your due diligence before tying yourself up in a long-term lease.  Of course, when you're busy running a growing company, your time and opportunity to play building inspector is limited.  Perhaps you should have enlisted some help.  So, here are some tips to prevent being spooked into tenant's remorse, before you're stuck in an unhappy lease.
Location, Location
Find an office in a part of town that is convenient for your employees, clients, and suppliers. Finding the right location could be the difference of "feast or famine." You must find what location will help your business be more profitable. Factors that might contribute to your success could include attracting talented employees, being accessible to customers on foot, or locating near similar businesses. If you are looking for retail space, is there a certain "district" for your type of business? (e.g., jewelers, garment trade, wholesale food, etc.). You may want to confine your search to that area. On the other hand, if your company doesn't interact with the public, or does its work at customer location, your focus should then be on an inexpensive location to establish an office. Regardless of your company's factors for success, location is paramount.
Too much vs. Too little
Don't get talked into renting more space than you need.  Realty agents may try and convince you to "go large" resulting in unnecessary expense.  On the other hand, don't lock yourself into a space that you are likely to outgrow before your lease expires.  And on that note…
Are there options to expand?
A facility with lots of available space may allow you to expand your operations as needed.  Also, make sure the landlord will allow you to build out the space as you want.
Lease Restrictions
Any clauses that limit the use of your own space, or that allows other tenants to use your space is generally a must-to-avoid.  If you have needs for signage, investigate any restrictions or local covenants that may forbid it.
Who picks up the tab?
Ask specifically what is included in the lease and what is not.  For example, do your "operating costs" cover: utilities, property taxes, janitorial services, building upkeep and external maintenance (snow removal, lawn mowing). Also, identify who covers the costs for improvements or buildout of your office space.
Parking
Is there parking for employees? Is there enough parking for customers? Is there enough handicapped parking?
Are the building and space aesthetically pleasing?
Nice office space in a rustic old building is one thing—in a seedy old building is another.  The look of a building and the condition of common areas such as hallways, staircases and elevators should not be off-putting to visitors as it will be a reflection upon you.
Tenant Neighbors
Check out the other tenants in the building (like the aforementioned martial arts studio and restaurant) to make sure there will be no undesirable factors in your environment.  You should also demand exclusivity in the leasing of space to any competitive businesses.
Subletting or Breaking the Lease
Things happen.  You may have unused space or require a cash infusion that subletting to another tenant could provide.  What are your options regarding a sublease?  And it's always important to know what the penalties may be for breaking the lease in case business takes a downturn.
A Careful Review
After you've done a thorough due diligence, be sure to give any lease with which you've been presented a very careful review. Don't be "spooked" by unknown terms in your lease. If you hadn't already engaged the services of a commercial real estate broker in the investigative portion of your search, now is definitely the time to engage the services of one, or an attorney who specializes in lease and contract review.
Don't skimp — be happy.  Five years, two, one…even a month is a long time to be locked into an unsatisfactory operating space.
Categories: