Time to Celebrate the Resilience of the Commercial Real Estate Market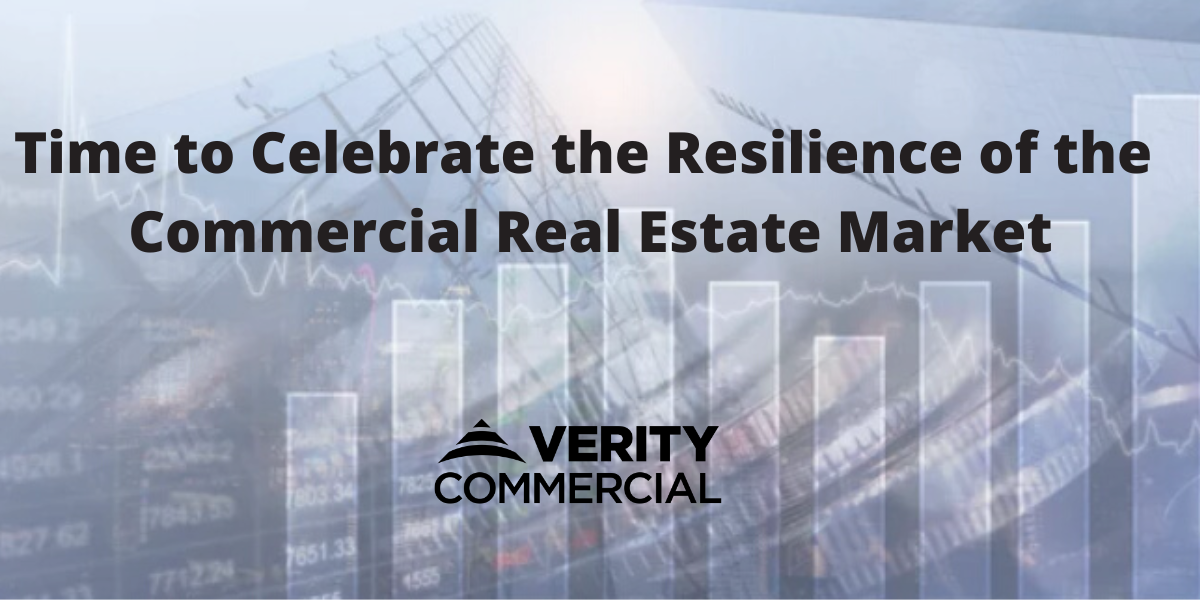 By John Salustri
A freelance writer and Verity guest content contributor
The commercial real estate industry (along with the entire US population) has been reeling from one crisis to another, it seems, from a global pandemic and, a major disruption to the supply chain to record-breaking inflation and increasing interest rates. The one constant in the ever-changing landscape of this industry is its resilience and adaptability.
Working Through COVID-19
It has been two and a half years since the COVID-19 pandemic virtually stopped economic growth in its tracks. Since then, virtually all industries have been scrambling to regain their footing and return to some sort of normalcy.
And while we are still dealing with an overhang from this extended crisis, the past few months have seen a gradual normalization of our lives and businesses as infection cases plummet and we slowly discard masks and ease up on social distancing protocols. Long-beleaguered real estate sectors–the office and retail markets in particular–appear to be coming back slowly to greater (if not full) activity.
Sector-by-Sector 
While the nation's office buildings emptied to single-digit occupancy levels, the industrial sector burned the midnight oil to keep retail shelves stocked–especially as more consumers turned to the safety and convenience of online shopping.
In fact, as a result of the industrial market's growth performance throughout the crisis, its status among potential investors has been rising as more money chases safe-haven plays (even among foreign investors). Today, the long-term value proposition for warehouse and distribution space even outpaces a traditional favorite of institutional money–multifamily housing.
Online shopping also did for data centers what it did for industrial. Already a growing commodity before COVID, the data center market is expected to grow by a compound annual growth rate of nearly 22% through 2026.
To touch briefly on retail, despite the beating it took during the pandemic, with more brands falling by the boards, this sector too is experiencing a recovery, in large part due to the quarantine-fatigue most shoppers are feeling. Yes, the battle between online shopping and bricks-and-mortar rages on. But assuming a soft landing from the current economic crisis, retail stands to enjoy positive value enhancement over the next three years.
Since the onset of the crisis, office building owners and managers have been diligent about stepping up their protocols for health and safety, often relying on technologies such as UV sanitation and touchless elevator controls to ensure worker and visitor comfort, all the while wisely communicating their efforts to their most important constituents–their tenants.
Their efforts are showing fruit. While some metros are faring better than others, the overall vacancy rate (depending on who is doing the measuring) ranges from 12.3% to 18.1%. This compares to mid-double-digit vacancies nationally through 2020.
Creative Solutions to the Supply Chain Bottleneck
But no sooner do we overcome one crisis than others appear. Part of the overhang from COVID was a severe bottleneck in our supply chain as manufacturers scrambled to meet the above-mentioned demand. The war in Ukraine has only served to further disrupt what is clearly an exposed global delivery mechanism.
I use the word "exposed" due to the multitude of risks the supply chain is open to. You might recall the cargo ship that a year ago ran aground in the Suez Canal. That one incident temporarily halted 15% of world trade. More recently, a freight-rail strike was narrowly averted, saving a reported $2 billion for the national economy. Exposed indeed! In the past year, specifically from January 2021 to '22, the cost of building materials alone jumped by a reported 20% due to the lag between demand and supply.
The freight-train peace talks were an important Hail Mary pass for an economy that is facing a 40-year inflationary high. (We'll have more on that shortly.) Slowly, it seems, manufacturers are dealing with their supply chain issues in creative ways that, while not solving the problem or guarding more diligently against unforeseen risks (like container ships in the Suez Canal) seem to be easing the pain. A prime example are firms like 3M, which has established a distribution facility on the East Coast in order to circumvent the bottleneck in West Coast ports and get goods to Asia.
Many firms are doing what medical supplies maker Medline is doing–investing big time ($500 million in this case) to shore up inventory against further supply chain disruptions. Reshoring and near-shoring have also become a major topic of discussion for manufacturers to release themselves from the stranglehold China has on exports.
The Known Risk of Inflation
We mentioned the inflationary environment. In August, the inflation rate was tracked at a staggering 8.3%. However, unlike pandemics and global supply chain bottlenecks, periodic inflationary pressures are something common to business, and real estate advisors who have logged any time at all know full well how to price most increases into their deal structures.
The question on most lips these days is if we are headed for a recession. Happily, most pundits seem to be leaning toward a mild downturn–short and shallow–and a soft landing rather than a full recession. You might recall a time–the go-go days of the early 2000s–when otherwise knowledgeable practitioners began believing that real estate was no longer a cyclical market. No one is saying such things today.
So, as we have before, we ride this one out, pricing in the risk as much as possible, bringing due diligence to spare on potential deals and waiting for the cost of debt to moderate. Smart market participants (Verity is among them) also further hedge their bets by diversification through multiple service and product types.
The Labor Shortage
A harder issue to combat is the ongoing labor shortage, which challenges virtually every vertical within the commercial real estate space. The trend has been dubbed The Great Resignation, but it is more accurately called the Great Re-Evaluation as workers of all stripes reconsider their options in a post–COVID world.
Reports indicate that many workers are still hesitant to return to crowded cities via equally crowded mass transit. Many older workers have opted for retirement and/or relocation to more business-friendly locales (often in the Sunbelt) where they can also realize a better quality of life.
For commercial real estate, the scarcity of workers seems especially acute in transportation and logistics. The US Chamber of Commerce estimates the number of open trucking jobs alone at 80,000, and thousands more in warehousing, railroads and ports, shortages that only contribute to the already troubled supply chain.
Money and working conditions seem to be the bitter pill for many organizations struggling to attract and keep workers. The Bureau of Labor Statistics has put the annualized wage increase at a "fast" 4.4% over the past quarter alone.
Meanwhile, corporate decision makers are investing in spaces to ramp up collaboration and connectivity with such amenities as lounges and rooftop cafes as well as more liberal work-from-home strategies. And while many corporate tenants are reevaluating their space needs and shortening lease terms, many others are expanding, specifically to accommodate those social gathering areas.
Full post-pandemic economic recovery remains elusive, and coupled as it is with other issues, it is clear that the commercial real estate industry is laboring under new rules of engagement. But two truths remain constant–the cyclicality of the market and the ability for savvy commercial real estate advisors to adapt to new challenges.
In 2023, Verity will take a closer look at some of these factors and the effects on commercial real estate. Be sure to subscribe to future insights.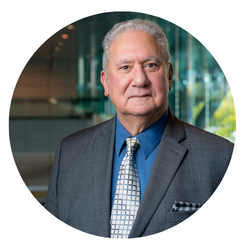 (John Salustri is a freelance writer and regular content contributor to Verity Commercial. He was founding editor of GlobeSt.com and is a four-time winner of the National Association of Real Estate Editors' Award for Excellence in Journalism.)
Categories: