VERITY INSIDER: A Pitfall to Avoid in Data Center Projects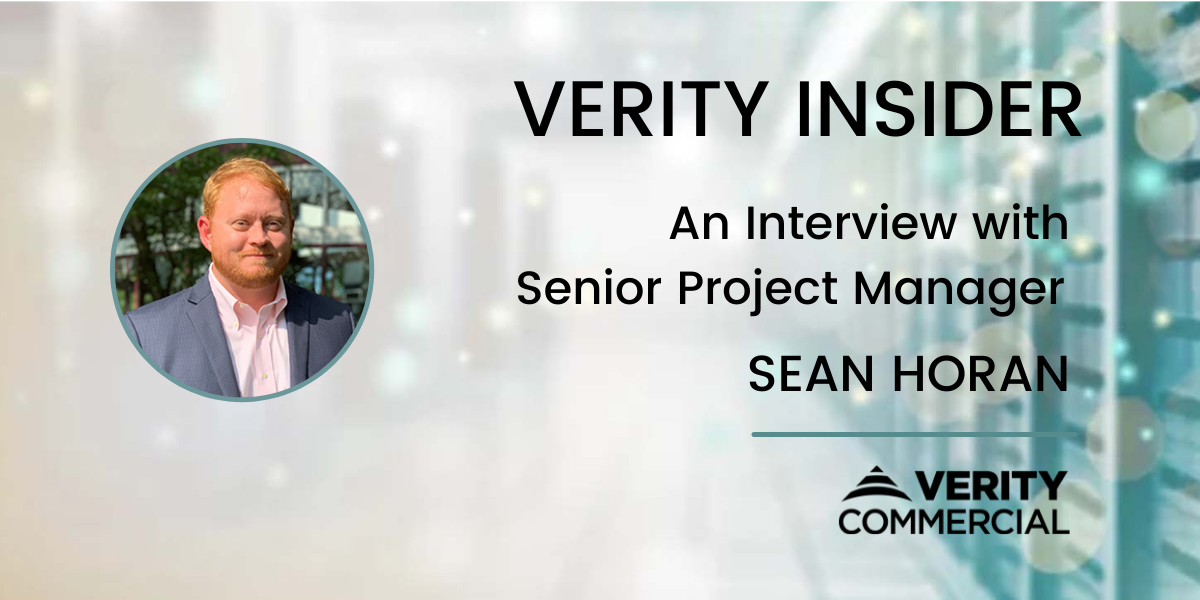 "There's a growing commoditization of data center construction." So says Sean Horan, LEED AP, BD+C, Senior Project Manager for Verity Commercial.
"However, at the end of the day, this is still a very human industry with the necessity of having knowledgeable parties on the ground working together to solve the intricate issues that will inevitably occur."
Horan, a three-year veteran of Verity, indicates that, on one hand, the trend does reflect the explosive growth of the data center industry. (See "Coming Out of the Pandemic, Project Management Consultants Are More Valuable Than Ever.") But, on the other hand, he says, "with end-users building as many as 10 centers simultaneously across the country, the nuances and complexities that are part and parcel of data center construction can get lost as each project is virtually reduced to a spreadsheet analysis.
On a spreadsheet, he says, they are reduced to terms of budget or time delays and the industry runs the risk of diminishing returns because of that trend."
He ought to know. Horan has built a 15-year career managing complex construction projects in excess of $1 billion. These include (but are not limited to) data centers and other mission-critical facilities, airports and healthcare assets. For Verity alone, his clients are largely confidential hyperscalers for whom he has completed work upward of 136mw.
The University of Florida grad sees a concerning reduction in expertise that comes with greater competition.  Two decades ago, data center construction teams were more focused on having the correct Subject Matter Experts, compared to today's teams that push the envelope of efficiency. With the proper team on the ground, they can solve the problem and ensure that other problems don't occur. They can coordinate to discover how certain issues may have gone right on one of those other client projects, why and who was overseeing those solutions.
"There's a push for cheaper and leaner," he continues, "for doing more with less. The subject-matter experts are being replaced with leaner management teams. That can work fine with an established design and tested & true equipment but leveraging engineering expertise when needed is still critical. Neither can the assumptive reliance on industry norms, such as the growth in popularity of air-cooled chillers. While its acceptance as an industry standard is certainly justified, every facility has to be weighted on its own merit and the many highly individualized decisions, from location and usage to budget and local-area regulations, that will define the shape of the project.
His advice is simple: For a successful construction process, "Get comfortable with a project manager, and leverage engineering expertise as appropriate" he states. It's a partnership that will pay benefits for the immediate need as well as for the long-term. "Over time, as the relationship builds, they can begin to anticipate the answers to client questions, and a greater understanding of their needs and expectations will grow."
Creating that relative ease and expediency is "different from commoditization," he concludes. "It's an understanding that virtually guarantees a project–or multiple projects–will be delivered on time and on budget."
# # #
Categories: