We Must Ride a Disconnect Before We Reach the Post-Pandemic Leasing Upcycle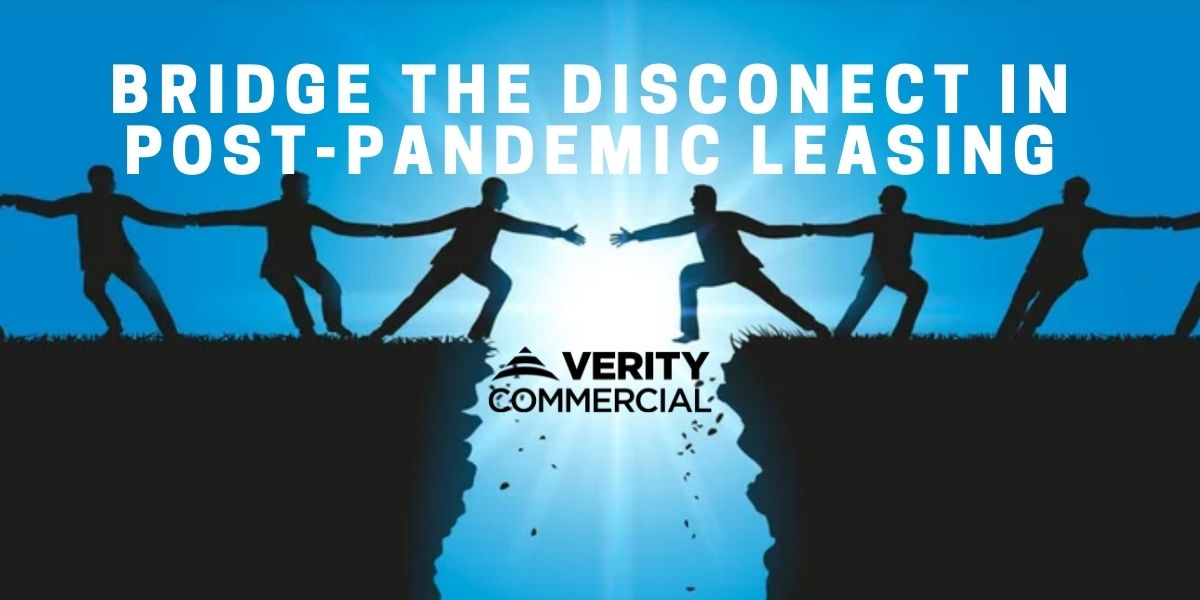 It's an interesting time in our post-pandemic recovery. Having been through the (literally) overnight crash of the economy and the commercial real estate sector­–after a record-long run-up, all eyes seem fixated on next year, and a resumption of the up-cycle.
There's certainly a rationale to that. Pent-up capital is once again hungering for deals, and landlords, especially in the retail and office sectors, have virtual fire-sale (pandemic sale?) signs posted on their windows. Tenant markets would seem to imply a quick fix to the leasing woes of the past year.
To feel the full effects of that "quick" fix, however, we must endure a rockier path, a period of disconnect between owners and potential tenants as both wrangle often conflicting needs in this embryonic recovery. For instance, Colliers reports national office vacancy rates of 14.2 percent–up 100 basis points from the first quarter. This is totally counter to expected trends, when occupancies should now be starting to reverse their 2020 isolation-induced freefall.
What's more, asking rates have yet to shift, now at a national average topping $40 a foot. Are good deals out of the question? No, but the expected great deals of a true tenant's market will be a stretch for a while yet.
While office owners keep to their asking rates, prospective tenants remain uncertain to overcommit. With work-from-home options now more a part of the corporate landscape than ever before, they remain unsure of how many seats they'll need in order to "right size" their office layouts. They still have to face additional questions about how much space to set aside for collaborative functions and social distancing. And so, the gap between landlord and tenant remains.
Retail Owners Unsure How to Meet Tenants Halfway
A similar disconnect exists in the retail sector. We've heard anecdotal evidence that many retailers are starting to enjoy growing sales figures, this the probable result of brands offering curbside and drive-up service as well as a growing need on the part of consumers to get out of their homes as more vaccines are administered. Meanwhile, many so-called big-box retailers have bitten the dust, those fatalities due to COVID and a greater reliance on home shopping but also, prior to COVID, the result of outmoded models, an inability to adapt to omnichannel strategies and just good old bad management.
Once again, prospective tenants here can expect good but not great deals. Landlords might go as far as 15 percent below market rates, but retail tenants come to the negotiation table with visions of 50 percent, a stretch way too far for landlords to make . . . yet.
The big-box shakeup also puts owners of anchored strip malls into a delicate situation. They happily extended below-market rates in order to lure in other smaller brands at heftier numbers.  With the big boxes gone, those rates are no longer justifiable. Yet owners still remain hesitant.
If and when they do, they can once again start filling their storefronts. As Marcus & Millichap reported recently, "The collective sum of retailers that permanently shuttered due to the pandemic is creating an environment with less competition, further boosting the possibility that existing and emerging retailers will flourish."
Industrial Markets Flip the Tables on the Disconnect
There's a disconnect as well in industrial spaces, but here the tables have turned. Industrial markets–and here we include the white-hot data center sector–have flourished in the past year, largely the result of the increase in e-tailing activity and the subsequent spike in same-day deliveries. (Food-delivery apps alone doubled in their popularity last year, says MarketWatch).
This will only continue. CBRE projects that the growth of e-commerce will generate national absorption rates of more than 333 million-sf by 2022 and rent spikes of 5.7 percent.
But as we've seen, what's good for the goose isn't necessarily good for the tenant gander, who's left to root around for formerly obsolete B space if no A assets can be found or are out of budgetary range. It should come as no surprise then that land is at a premium right now as well.
Of course, we at Verity Commercial are optimistic for the coming year. But as we look to the long-range future, we believe that caution is currently called for as tenants and landlords alike work through the market shifts that are always a part of an economic turnaround.
Reach out to Verity experts today. With our grasp of national and local leasing markets, we can help you bridge the current disconnect to achieve long-term leasing success.
# # #
Categories: