Wiehle Avenue – A Look At Then, Now, And Its Future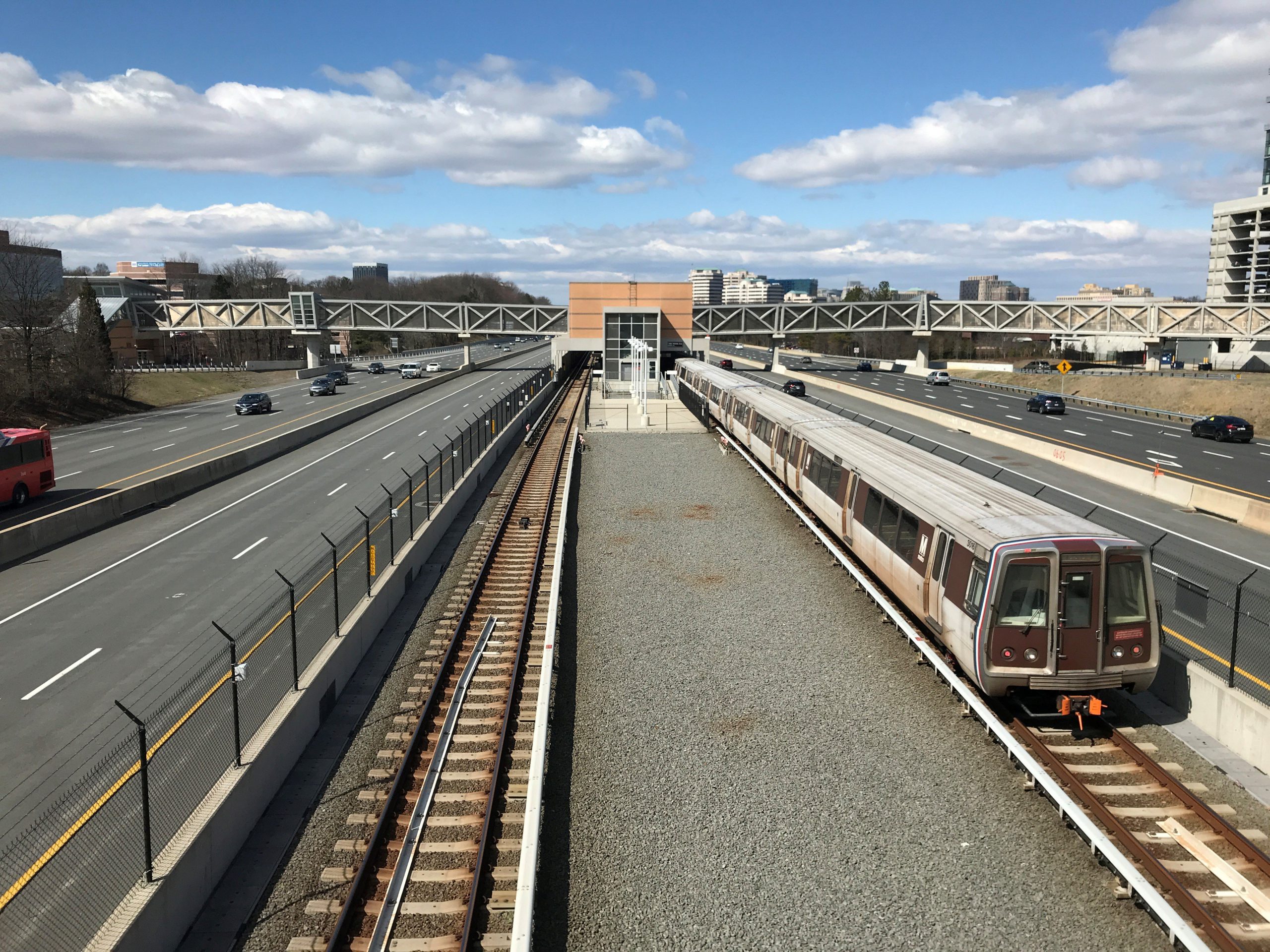 Verity's article as featured in the NAIOP Northern VA Chapter Bus Tour Guide Book on May 3, 2018. 
Since its inception, the vision of Reston was to create a community to live, work, and play. That vision has not changed in nearly 60 years. Wiehle Avenue has served as a central focal point to embrace and grow this vision. It offers easy access to the Dulles Toll Road and the Silver Line's Wiehle-Reston East Station with great amenities that appeal to businesses and residents alike.
Then
In the early 1960s, a radical plan emerged to create a city in a rural community, largely farmland, outside of Washington, DC. Critics hailed it as both innovative and insane. Who was the founder of this outlandish, yet genius plan? That would be Harvard graduate, Robert Edward Simon Jr. Bob invested a large amount of his family's real estate fortune to create a planned community on 7,000 acres in Northern Virginia. Using the founder's initials to name the city and the English suffix for town, Reston was born.
After some setbacks and near bankruptcy in 1967, Reston is recognized as one of the earliest and most successful master planned communities in America. By the end of 1988, Reston was home to more than 1,400 companies, which employed about 31,000 people. After the Dulles Toll Road opened in 1984, big technology firms and large corporations moved in, attracted by shorter driving time to Tysons and DC, community design and amenities, and the talented workforce that lived in Reston.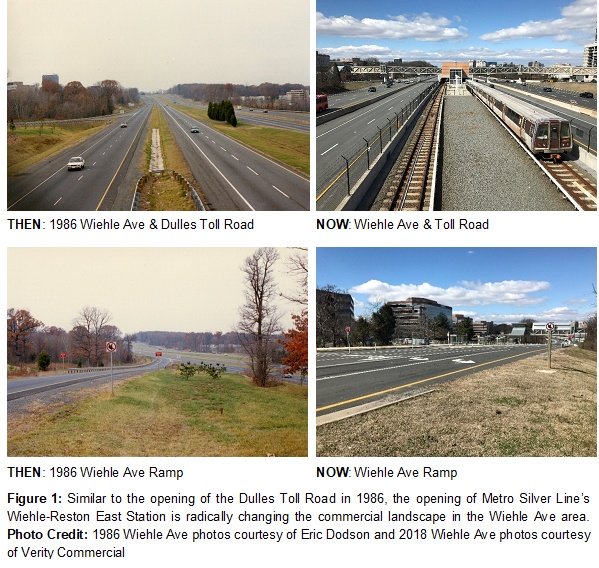 This growth continued into the 1990s with the establishment of the Reston Town Center and has remained steady through the 2000s. Each decade and generation embraced the vision of Reston's founder – to create a place to live, work, and play.
In 2014, the opening of the Metrorail Silver Line Wiehle-Reston East Station dramatically changed the Wiehle Avenue commercial real estate landscape, and will be the driving force for the future.
Now
Today, the Wiehle Avenue area is growing due in large part to the Wiehle-Reston East Metro Station. The Wiehle Avenue area exemplifies Reston's vision of ensuring that growth is sustainable and community-oriented. Today, Reston is the largest planned community in Virginia and renowned for its active, walkable urban environment and wealth of commercial, retail, and residential development.
Office Market Overview
Reston offers a diverse office tenant makeup representing most of the major industry segments with a focus on IT and software companies. Finance, healthcare, and information trail closely behind. Most of Wiehle's office demand is driven by the Metrorail Silver Line and its anticipated expansion to Dulles International Airport. The Silver Line and relatively affordable rents have stimulated interest from tenants and caused vacancies to fall below the Metro DC average. Additionally, at least six buildings within a half-mile radius of the Wiehle-Reston East Metro station are undergoing or are scheduled for demolition. This will likely increase office space demand in the short-term.
Wiehle's increased popularity has created a decline in the number of large blocks of office space available for lease. Although all size ranges saw reductions in available space, the most significant decline was in the 50,000- to 100,000-sf range, leaving larger tenants with fewer options in Reston.
Multi-Family Market Overview
Driving Wiehle's consistent demand are the 9,000 new residents per year moving into the Reston/Herndon corridor, making it one of the fastest-growing populations in the area.
Demand remains strong and is expected to continue in the future because of the Metrorail Silver Line, population growth, and strong demographics. The Wiehle Avenue area has great amenities that appeal to the multi-family market such as location, the Metro, mixed-use developments, and access to the Reston Town Center.
The Metrorail Silver Line will continue to drive new transit-oriented development along Wiehle Avenue. The construction pipeline continues to see new projects break ground, and it is a good time to build in this submarket. Fairfax County recently increased the allowable FAR near Metro stations in the County in excess of 3.0, which is likely to increase the density of projects still in the planning process.
Retail Market Overview
Wiehle Avenue's population growth will drive stronger retail demand. In addition to Fairfax County increasing the allowable FAR near Metro stations, Fairfax County Department of Planning and Zoning proposes to bump the overall limit on people per acre in Reston's Planned Residential Community (PRC) District from 13 to 16. The current density is about 11.9 people per acre. If passed, this will encourage a growing population along with more office and retail development in Reston.
Mixed-use projects with retail use have had the most success in attracting tenants. As Fairfax County continues to promote cohesive mixed-use development near Metrorail stations, it supports Reston's adopted Comprehensive Plan.
Future
Wiehle Avenue will continue its evolution into an educated, urban, and walkable community with mixed-use and residential areas that are well-connected to the Wiehle-Reston East Station and amenities.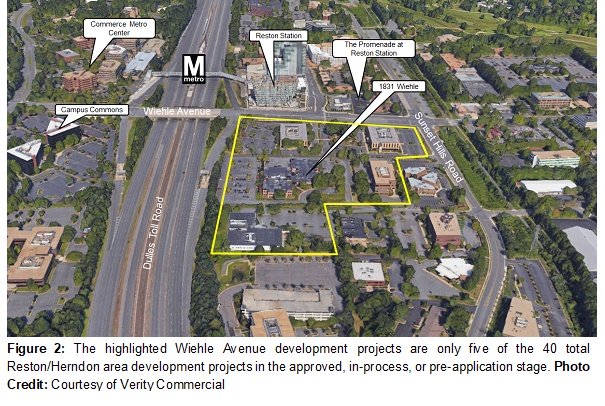 Developments along Wiehle Avenue that are shaping the future of Reston include:
Campus Commons | TF Cornerstone | Low-rise office, two towers with 1.1M SF residential and ground retail space
Commerce Metro Center | JBG SMITH | 1.5M SF mixed-use development, 500 residential units, high-rise office, and hotel
The Promenade at Reston Station | Comstock Partners | 4 mid- to high-rise towers, including residential, office and hotel uses with retail and entertainment spaces totaling 1.285M SF
Reston Station | Comstock Partners | In addition to the existing 500K SF residential building (BLVD) and the 350K SF office tower (19Hundred), construction has begun on two additional office towers. Retail spaces are provided throughout. The project also includes entitlement for a hotel and additional offices and residences, totaling 1.6M SF
1831 Wiehle | JBG, EYA & Chevy Chase Land Co. Joint Venture | 1.6M SF mixed-use development, 1.2M SF of residential and senior living, 230k SF of office, 250k SF of retail, along with 2.3 acres of green space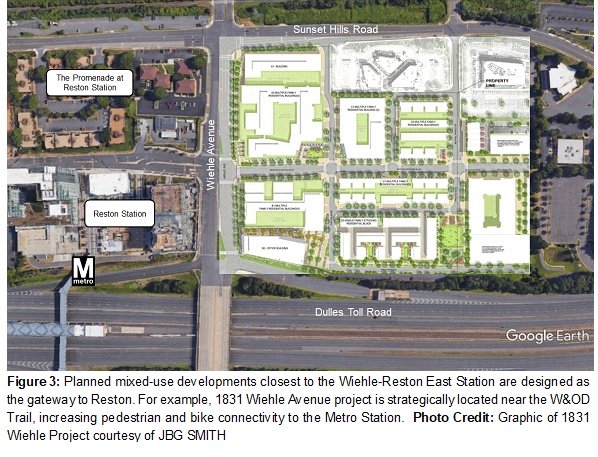 With the number of amenities offered by the Wiehle Avenue area, and proposed, planned, or under construction developments, it has become a popular community for businesses and residents. Mixed-use development projects will continue to help growth in the Wiehle Avenue area well into the future.
Resources
1 Historical data provided by Greater Reston Chamber of Commerce and Reston Association http://www.restonchamber.org/chamber-history.html
2 1986 Wiehle Ave, Toll Road, Exit Ramp photos provided by Eric Dobson with permission to use
3 2018 Wiehle Ave, Toll Road, Exit Ramp photos provided by Verity Commercial with permission to use
4 Graphic of 1831 Wiehle Project provided by JBG SMITH with permission to use
5 Statistical market data provided by CoStar, December 2017
6 Statistical data related to Fairfax County provided by Fairfax County Department of Planning and Zoning
Categories: