5 Jobsite Tech Trends Changing the Commercial Construction Industry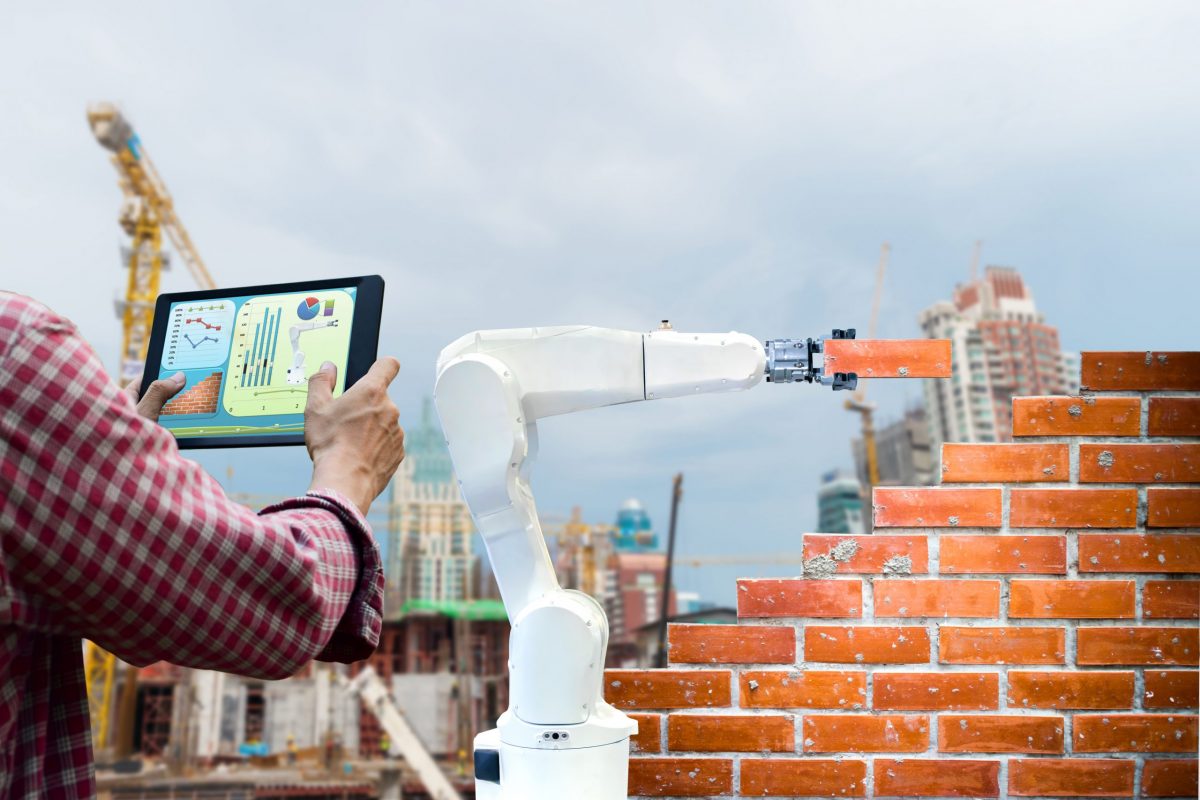 BIM, drones, robotics, remote monitoring systems, 3D laser scanning and modeling, 360° imagery, and AI are changing the game for the commercial construction industry. Discover 5 jobsite technology trends you can't ignore.
The mounting pressure on the commercial construction industry to do more with less, along with the shrinking pool of skilled laborers, is driving the need for high-tech solutions at the jobsite. In addition, there are growing concerns over safety and loss of productivity; as well as the need to improve communication and collaboration. These factors are pushing a greater need for technology usage.
If you're looking to incorporate technology that can take the pressure off your shoulders while still being cost-effective, here are 5 growing jobsite technology trends we think you can't overlook.
Building Information Modeling (BIM) – BIM uses interactive 3D models that correctly represent aspects of a jobsite, like certain building features and existing structures. These models allow project stakeholders to virtually test how design and construction changes would affect the site before actual construction takes place. Additionally, any changes made are viewable to anyone on the team with the software. Besides BIM reducing construction costs, it can streamline collaboration, approve processes, and reduce errors both on paper and in the field.
Drones – Drones are already improving the construction industry by obtaining jobsite awareness and accuracy faster. With the ability to fly in difficult or confined parts of a site, they're increasing safety, reducing risk, and improving jobsite visibility. Also, drones help map and survey jobsites and can provide real-time insights using aerial imagery and video. There are some limitations and many rules and requirements for flying a drone for commercial purposes so consult a drone expert. Drones will continue to impact construction as technology improves and will likely become an essential construction tool in the future.
Robotics – Robots in construction seems like something from The Jetsons. However, innovative companies like Construction Robotics, a robotics and automation equipment manufacturer, are already offering futuristic systems like SAM100, an onsite robotic bricklayer, and the MULE, a lift assist device making it safer to handle and place construction materials. While robots aren't completing replacing humans (not just yet anyway), having robotics assist human workers does ease the pressure of finding skilled laborers in an already shrinking pool of talent.
Remote Monitoring

– On most jobsites, remote monitoring is a useful tool since it's just not possible to manually track workers, materials, and machinery with great accuracy. Field reporting apps collect data regarding contractor labor, when workers arrive and leave the site, general worker proximity within a site/building, and when materials are running low. Also, GPS systems not only track machinery physical locations, they report equipment usage, speed, and required maintenance. The level of remote monitoring needed on a jobsite is determined by the project, its complexity, and mobile connectivity reliability. It's still important for managers to regularly be at the jobsite and engaged with workers and subcontractors but having tools like these will allow managers to focus on multiple tasks and projects at the same time.

Scanners – 3D laser scanners give you highly accurate measurements and detailed point clouds of buildings and can be incorporated with BIM workflows to create fast, pinpoint accuracy for reliable data. Other types of scanners create 360° views through imagery and artificial intelligence. Managing a jobsite efficiently is a challenge, so use high tech scanners to improve data accuracy, collaboration, and communication.
If you're struggling to stay ahead of technology, Verity's project managers have worked with many current technology trends and can up you narrow down the choice and help you find a great contractor. Contact us today!
Learn more jobsite technology and the companies that specialize in them on BuiltWorlds' 2019 Smart Jobsite 50 List.
If you found this article helpful, check out Verity's other resources too:
7 Factors to Consider When Choosing Precast Concrete vs. Tilt Wall Construction Method
Drones: 7 Factors To Consider Before Taking Your Construction Project To New Heights
What Owners Need to Know About DAS (Distributed Antenna Systems) in Commercial Buildings
Resources:
3 Key Benefits of 3D Laser Scanning
7 Construction Tech Trends to Watch in 2019
Categories: