In Arlington County, VA, Controlled Boom Bodes Well for Recovery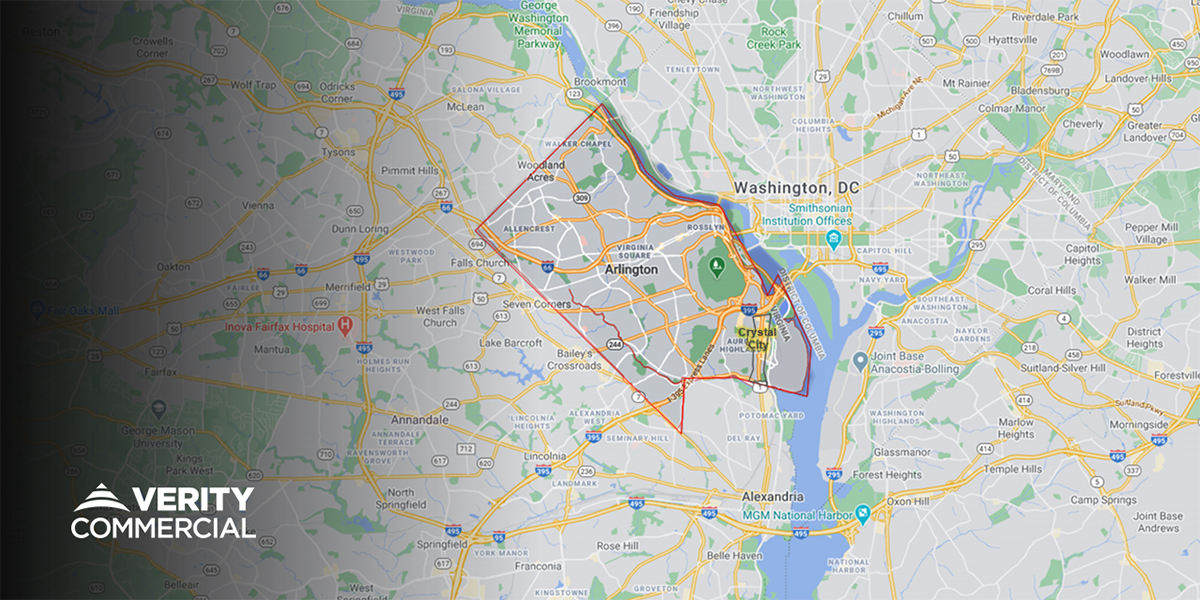 Uncertainty still prevails, even as vaccines roll out and we as a nation pivot toward recovery. It's a good time to look at success stories, to explore areas that are poised for robust commercial real estate growth, to get just a hint of what full recovery might look like when we get to 2022.
Arlington County, VA is just such a locale. This close in suburban community has been among the pioneers of smart-growth planning since the early days of the metro, the MSA's mass transit system, so there's a pedigree of cautious development that underpins its current post-pandemic position.
(Indeed, when the Metrorail was in its planning stages, county officials and residents put their heads together to develop a smart growth plan that would include an underground route to promote development around public transportation rather than encourage suburban spread.)
That same clear-headedness is evident today. There are no fewer than 28 multifamily developments approved and waiting to come out of the ground, promising housing units totaling in the thousands. This comes in addition to some 13 recently completed projects (almost 3500 units) and 12 that are still under construction (approaching 3200 units).
Fundamentals Will Drive Growth in the Multifamily Sector
That might sound like a flood of multifamily units about to hit the market, but there are a few critical factors that must be folded in. Before an approved project begins construction, the funding has to be in place, which means that the market demand has to be there in volumes enough to satisfy a very competitive climate. Next door to the seat of national government, the demand in Arlington County promises to be there.
The strength of the multifamily market can be seen through the eyes of investors and is in keeping with national trends. As Real Capital Analytics reports, multifamily price growth registered at 6.8 percent in Q1, hovering around the seven percent rate seen in recent months. Interestingly, the DC metro area overall ranks ninth in RCA's list of the Top 10 most active property markets.
The presence of Virginia Tech, delivering a highly trained workforce for government, as well as for business in general and technical jobs specifically, also promises high demand for the housing sector. More on Virginia Tech shortly.
Office Projects Remain in the Waiting Room
While the office sector lags under a remnant uncertainty on the part of many investors and developers, the county did manage to get projects on the board in recent months. According to Arlington Economic Development, 2.1 million square feet was under construction in Q4 of last year, adding to the little more than 201,000 feet already delivered. In keeping with the approval/construction hurdle mentioned above, there's an impressive 7.3 million square feet approved and waiting for market conditions to improve.
That wait may not be all that long, if Amazon has anything to say about it. The mega-online retailer is about to enter Phase 2 of its so-called HQ2 project in National Landing, a newly dubbed submarket encompassing parts of Crystal City, Pentagon City and Potomac Yard. Already, there are 1,000 workers in Phase 1 of the massive complex, which is focused primarily on Amazon Web Services (AWS). This, of course, is a perfect fit for the region, which, as we've pointed out in recent blogs, is known nationally as Data Center Alley and leads the country in DC activity.
Amazon and Virginia Tech will be joined at the hip for the part of the HQ2 plan that involves Potomac Yard, once among the busiest train yards in the East, before decommissioning and redevelopment began in the 1990s. The plan calls for a grad-school satellite campus–the Virginia Tech Innovation Campus–virtually ensuring a post-grad influx of new talent. In October, the Alexandria City Council approved plans for the redevelopment of the Yard, including the massive, two-phase Innovation campus, scheduled to come online by 2024. Not surprisingly, the center is dedicated to computer science master's degrees. Additionally, developers are moving forward with plans for the Oakville Triangle in Potomac Yard that includes the Inova Healthplex and 2 multifamily buildings.
Clearly, Arlington County is poised for recovery, the seeds of which are already beginning to sprout. The projects in place, approved or coming out of the ground, are well-timed to reap the full benefits of a full 2022 recovery. To that extent, Arlington County may very well be a symbol of the economic growth shared by similar smart growth communities around the country, and the robust real estate environment to come.
Contact Verity Commercial today and let us help plan your own smart-growth initiatives.
# # #
Categories: