Pivoting Towards Recovery: A Readership Q&A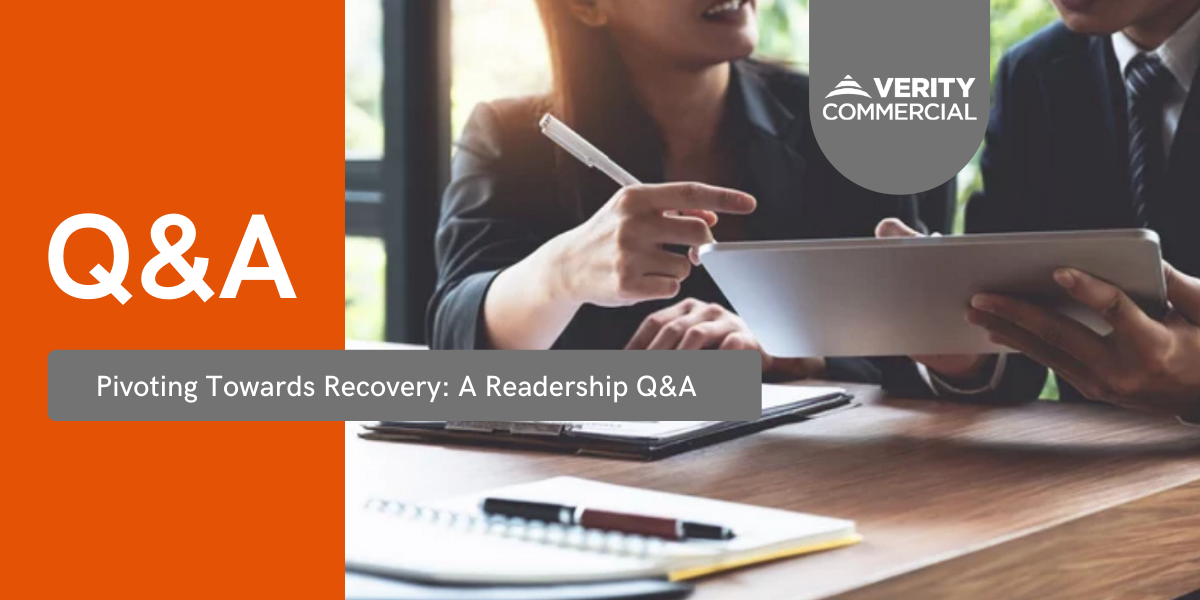 It was just a year ago that the commercial real estate industry, indeed all industries and all people virtually around the world, had to pivot on a dime. For businesses, it meant throwing a safety net around workers' health and safety while puzzling out how to maintain productivity as the economy came crashing down around us.
We are transitioning once again, this time toward the good news of recovery, which we see as falling out in three stages: short-term, mid-term and long-term. And at this early stage of the recovery, you can ask three pundits for their guidance and get four different answers.
So, this is a blog as much about questions as answers. And we'd truly enjoy hearing how you, our readers, see the current early stage of our recovery. Read through for our questions and how you can respond.
The first question we have revolves around the ubiquitous work from home (WFH) phenomenon. As Bisnow recently stated, "some workplace experts caution that expectations of more permanent remote work arrangements will come head-to-head with the notion, however unsupported, that workers are more productive within the office."
But, on the other hand, are WFH employees facing burnout from the imposed isolation it brings?
And yet, most pundits seem to be settling on the assumption that a hybrid between showing up at work and staying home in your jammies will be the answer.
Reader Question 1: How do you see a WFH strategy shaping up in your business?
To reply, just leave us a comment below.
We see this short-term state of uncertainty as lasting through the end of this year. By then, vaccines would have been complete and we as a nation can pivot once again to the next two years, the mid-term, wherein we'll be formalizing our work under some new procedures and practices, road tested in the short-term. The long-range outlook then would be for strong and healthy growth in a revitalized economic environment.
Reader Question 2: What is your own timeline for a return to full recovery?
We'd like to hear from you. Leave us a comment below.
We wonder what will happen to office rentals. Will corporate occupiers cut back due to financial constraints or efforts to "right size" their offices for the number of people who actually show up on any given day? Or will they take advantage of more suburban spaces (possibly in coworking or flexible offices) to be closer to where their teams live?
In a recent blog, we cited the BOMA survey of more than 3,000 corporate decision makers. More than 60 percent of survey respondents reported that they would somehow be reassessing space needs. Of those, 54 percent are planning to cut back on their square footage or are still unsure. Thirty-three percent would either expand their spaces or stay put.
Reader Question 3: Will you reduce your office space or expand to build in more social distancing?
Tell us your thoughts below.
In the wash of uncertainty surrounding this early stage of recovery, technology seems to be one of the truest tools in our arsenals. Tech applications, already growing in most real estate firms, got a major boost last year, especially in all things touchless, be it bill paying, real estate tours, digital communications (who knew a year ago what Zoom was?) or building entry. The commercial real estate industry, long considered a laggard in terms of tech adoption, seems at last to have come of age.
Reader Question 4: How has tech come to your service since the start of the pandemic? 
Let us know by leaving a comment a below.
Some other thoughts
The office market doesn't hold the only bundle of questions that linger over the industry post-pandemic. Retail was struggling well before COVID-19. Quarantines and a mad rush to computer shopping didn't help at all (although it helped keep the data center market on its perennial growth trajectory.) And yet, smart investors are leaning toward retail models with strong leadership and an essential place in the market, such as pharmacies and quick-service restaurants, especially those with a drive-through.
Additionally, while the data center market and the industrial sector, at least to some extent, seem to have been served well by the events of last year, multifamily, long the darling of investors, took a few hits, especially in the face of the record unemployment, inability to pay rents and the blanket moratorium on evictions. (While most residential managers looked after and provided guidance for struggling residents, their hands were mostly tied by restrictions on evicting tenants—including those conducting criminal or chronic bad behavior, behaviors totally unrelated to the virus.) Nevertheless, we are reading reports of record rents in multifamily. As we stated above, there is no shortage of so-called experts willing to share their views, regardless of how accurate they might be.
We at Verity Commercial are confident that the current market uncertainty is a passing thing, and we see a time when our economic upcycle will pick up where it left off a little more than a year ago. Yes. it will take time, and indeed we will come back different.
But we will come back.
We look forward to your input and insights on the questions we've posed. As always, if you have commercial real estate needs or questions, contact one of our advisors to set up your one-to-one consultation.
# # #
Categories: