VERITY INSIDER: Retail Leasing Success Is a Matter of Market Knowledge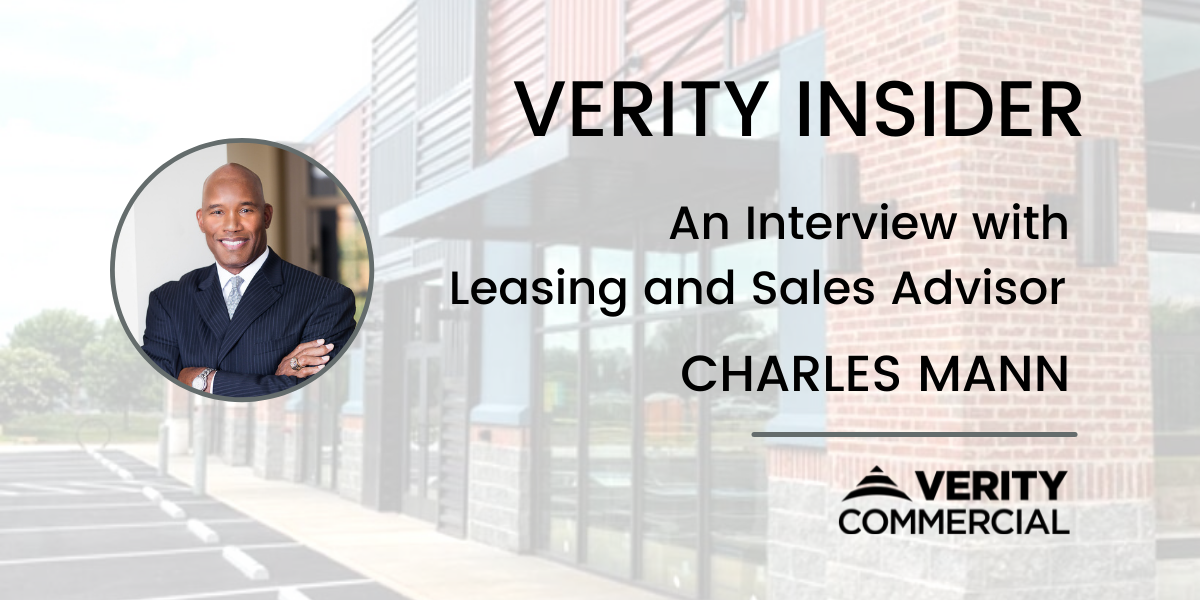 Don't count retail out. That's the word from Verity Commercial Leasing and Sales Advisor Charles Mann. Consumer headlines to the contrary, the Washington DC metro retail market is emerging from the pandemic stronger than the rest of the nation.
"It's just not true that retail was decimated due to isolation and quarantine restrictions," he says. "Especially in the Washington DC metro market, the sector is making a comeback." Yes, there was a period of uncertainty, a condition shared, of course, with some of the other major food groups in the depths of the pandemic-induced recession, especially the office sector. But the outlook is getting brighter.
And Mann ought to know, because Mann knows business. He has had boots on the ground for Verity for four years now, serving primarily as a tenant rep for the office and retail sectors. Interestingly, he traded a pair of football cleats for those boots. A three-time Super Bowl winner (he played defensive end for the Washington Football Team), Mann is also an entrepreneur with a number of successful business startups to his credit.
But it's in tenant rep where he has earned the trust of Verity clients. His assessment of the retail resurgence is one shared by other experts in the field. "Sixty-percent of commercial real estate leaders and 55% of retailers expect a return to pre-pandemic levels by the end of the year," states Chain Store Age, calling it "a testament to the resilience of consumers and a strong desire to safely visit brick-and-mortar retail."
What's more, retail rents are showing signs of post-pandemic life, with GlobeSt.com reporting a slight Q2 uptick of 0.2%. "The overall vacancy rate for retail in Q2 clocked in at 10.5%, while asking rents were $21.33 per square foot and effective rents came in at $18.59 per square foot," reports the website.
And what does this mean for the local market? According to Bisnow, "eighty-six retail operators began seeking D.C.-area space in the first three months of the year, followed by another 45 tenants in April, a significant increase in activity from last year."
Of course, the market still demands landlords willing to work with the tenant–if it's the right tenant, that is, and Mann explains that tenant improvements (TIs) and free rent–as much as nine months–are still a part of the retail leasing scenario.
The Right Tenant for the Right Space
Tenant representation is a sort of matchmaking proposition, says Mann, an exercise in putting the right tenant to the right space owned by the right landlord. With that in mind, there are expectations that he advises his clients to come armed with.
"First, have your finances in order," he says. "You need to have a talk with your financial institution before you talk with a landlord in order to ensure your creditworthiness. You don't want to get close to a deal only to be bested by another, more creditworthy tenant."
He also suggests focusing on second-generation space, a tip especially true for startup restaurants, particularly in this age of climbing construction costs, a condition being driven by supply-chain delays. "Improvements on first-generation space–even small spaces of 2,000 square feet–can run as high as $400,000."
Mann also searches for high-traffic areas "with easy access for the convenience of potential patrons," he says.
There is one more vital component to a successful lease negotiation: That's a close working relationship with your tenant rep. Mann is a big believer in building ongoing relationships with his clients, as many of them witnessed during the depths of the recession. "I was constantly on the phone to ensure they were doing well and trying to find ways we could help."
The retail picture is indeed getting brighter, and barring a major upsurge of variant virus strains, it should continue to do so. But market expertise–the aforementioned boots on the ground–is essential to sidestep the sand traps that still remain in an ever-shifting market. "That's what we're here for," Mann concludes.
Contact Verity Commercial and Charles Mann today to discuss how we can optimize your leasing strategy.
# # #
Categories: