Construction Making Progress at 1900 Crystal Drive near Amazon's HQ2 in Arlington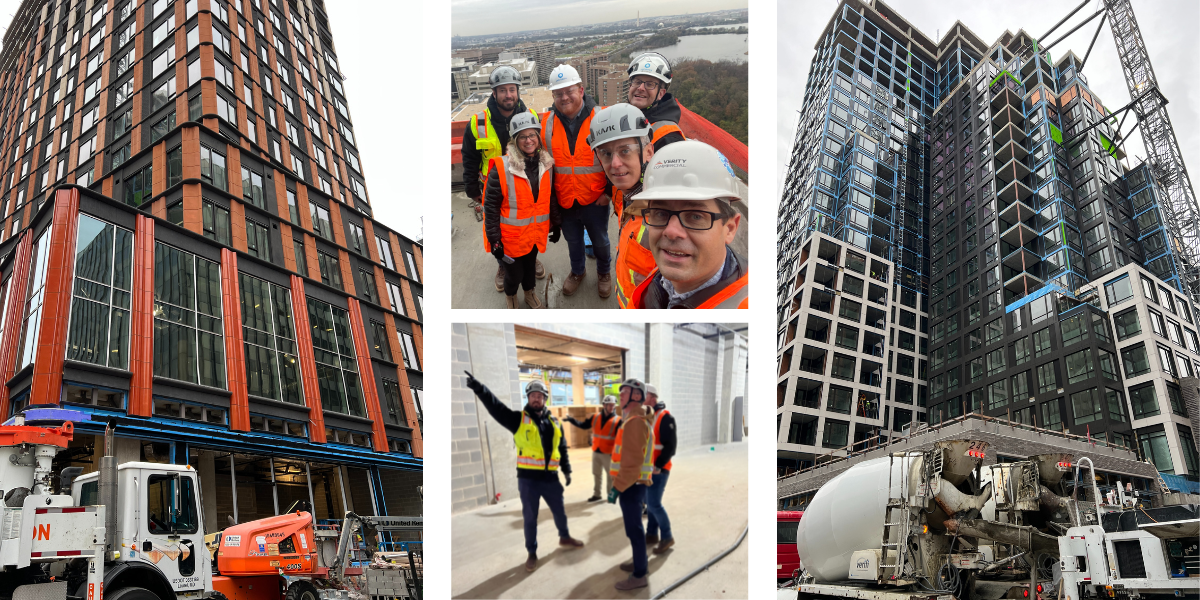 Verity's urban mixed-use, multifamily construction management project at 1900 Crystal Drive in National Landing is making progress near Amazon's HQ2 building. Our team toured the property which consists of a South Tower with 28 stories (shown above on left) and a North Tower with 27 stories (shown above on right).
This project replaces a vacant office building at 1851 S Bell Street and 1900 Crystal Drive. When finished, the project will consist of 808 multifamily units and nearly 45,000-sf of retail. The 28-story south building will consist of 471 residential units above 16,800-sf of retail, while the 27-story north building will contain 337 residential units above 19,300-sf of retail.
A woonerf, a walkable shared-use street, will separate the two buildings with an additional 8,900-sf of space and retail lining the plaza.
Located half a block from the Crystal City Metro and adjacent to Ronald Reagan Washington National Airport, 1900 Crystal Drive is scheduled to be completed first quarter of 2024.
Thank you to Verity 1900 Crystal Drive Project Managers, Billy Frye and John Ganssle, for hosting the tour.
ABOUT VERITY
Founded in 2010, Verity Commercial is a Washington, DC metro-based national multidisciplinary firm that approaches the commercial real estate industry in three ways: development and construction services, brokerage and real estate investments. Our breadth of expertise gives clients more options and the perspective to make better decisions. Our fast-growing construction management practice focuses on three core industries: data center/ mission critical, life science and mixed-use projects. Our brokerage practice is geared toward clients that require strategic thinking along with transactional results. And our investment practice combines our market knowledge, strategic thinking and technical expertise to help real estate investors build a successful portfolio.
Verity is a 5-time Inc. 5000 firm, one of the fastest growing firms in Virginia and in the DC Metro area, and Great Place to Work-Certified™. Verity is recognized as Northern Virginia Technology Council (NVTC) Data Center Vendor Champion, Reston Cornerstones Philanthropist of the Year Finalist, Greater Reston Business of the Year, and Dulles COVID Business Champion Nominee.
# # #