Verity's Oyku Hanna Successfully Represents Seller in 40,000-SF Industrial Flex Sale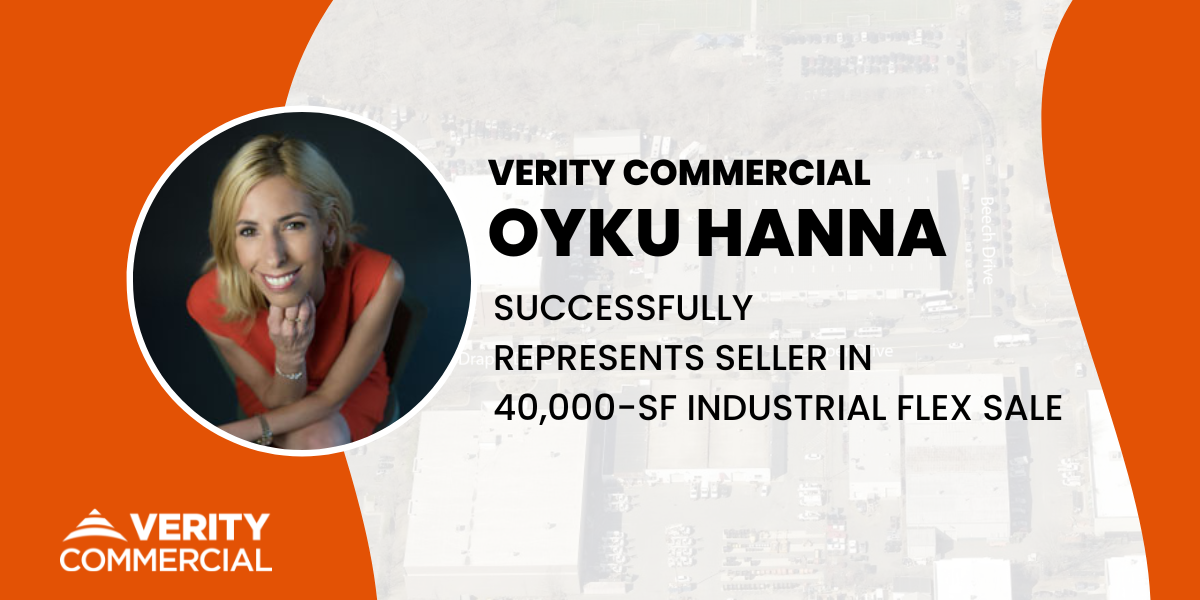 Oyku Hanna of Verity Commercial, a leading commercial real estate firm, is proud to announce the successful representation of the seller in the sale of a 40,000-sf industrial flex building located at 3170 Draper Drive, Fairfax, VA.
The sale presented a unique challenge due to the recent rise in interest rates, making financing difficult for potential buyers. However, Oyku, who represented the seller, was able to leverage her extensive network to attract a qualified buyer.
"I worked to ensure that this deal was structured in a way that was beneficial to all parties, despite the challenging market conditions," said Oyku. "I understand that the key to success is leveraging my relationships and expertise to structure a deal that meets the needs of both the seller and the buyer."
Bill Collins, the seller, added, "I am grateful for the hard work and dedication shown by Oyku in representing me during the sale of my industrial flex space. Her knowledge and skills were critical to achieving a successful outcome."
The representation of this sale is a testament to Verity's commitment to providing exceptional service to its clients.
"We are thrilled with the outcome of this deal and the successful representation of our client," said Ken Traenkle, Verity's Cofounder. "This sale underscores the importance of our competent representation and commitment to delivering value to our clients."
Verity wishes to extend our congratulations to all parties involved in this transaction.
ABOUT OYKU HANNA
Oyku Hanna has over 10 years of experience offering investment, sales, purchasing, landlord, and tenant representation services. Born and raised in Turkey, Oyku brings an international perspective to her work at Verity. Being a native Turkish speaker makes her a valuable advisor for the Turkish community. Oyku is one of Verity's leading producers and consistently represents her clients well. She obtained her business administration degree from George Washington University and has worked for major institutions including the World Bank and Crowell and Moring Law. This background has secured her many important connections in the real estate industry.
ABOUT VERITY
Founded in 2010, Verity Commercial is a Washington, DC metro-based national multidisciplinary firm that approaches the commercial real estate industry in three ways: development and construction services, brokerage and real estate investments. Our breadth of expertise gives clients more options and the perspective to make better decisions. Our fast-growing construction management practice focuses on three core industries: data center/ mission critical, life science and mixed-use projects. Our brokerage practice is geared toward clients that require strategic thinking along with transactional results. And our investment practice combines our market knowledge, strategic thinking and technical expertise to help real estate investors build a successful portfolio.
Verity is a 5-time Inc. 5000 firm, one of the fastest growing firms in Virginia and in the DC Metro area, and Great Place to Work-Certified™. Verity is recognized as Northern Virginia Technology Council (NVTC) Data Center Vendor Champion, Reston Cornerstones Philanthropist of the Year Finalist, Greater Reston Business of the Year, and Dulles COVID Business Champion Nominee.