Life Science Project Tour in Rockville, MD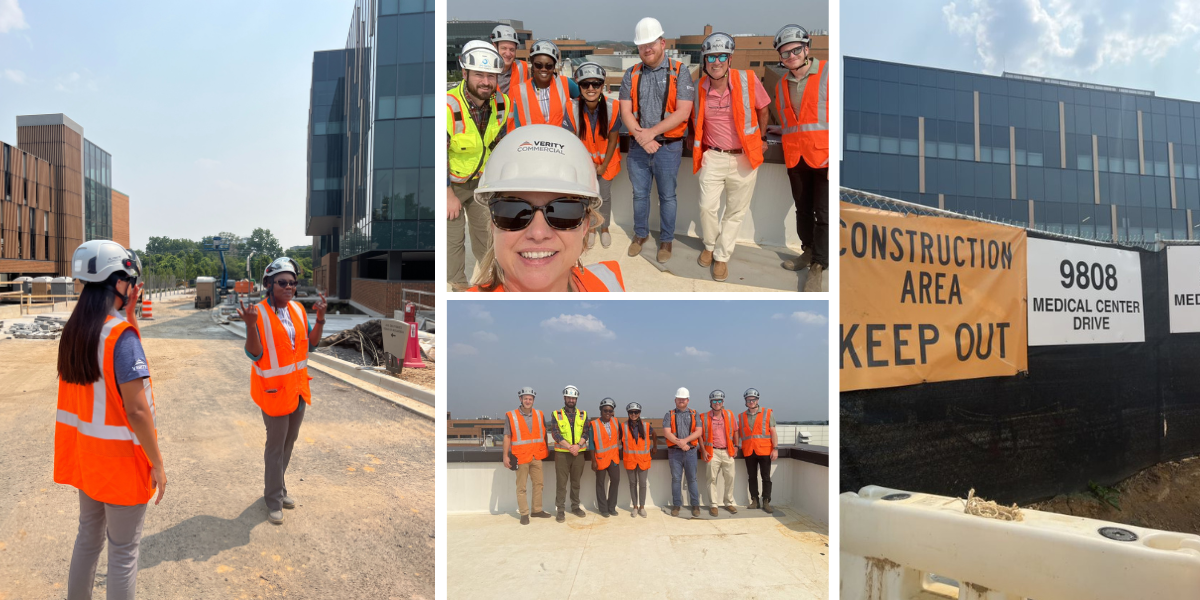 Verity's life science project is in the heart of the thriving bio-tech sector of Rockville, MD. Led by project manager Emelia Boateng, our team received a tour of the facility. Verity's project/construction management services ensure a seamless integration of life science technology and design, from predevelopment to construction and completion.  
The tour helped our team envision their efforts and embrace the importance of collaboration. The project is situated along the Maryland I-270 bio-tech corridor and is intertwined with a combination of federal agencies, leading academic institutions, and a large cluster of life science companies. The striking four-story building is innovative in its design, along with an array of amenities surrounding the development. Located at its base is an open plaza that ties the building and parking garage together, as well as a rooftop mechanical penthouse with an integrated screening room.  
"Getting to explore the building in person gives us an appreciation of our work and provided us with a fun opportunity to get out of the office with our team," said Kellie Cisler Verity Marketing & Communication.  
ABOUT VERITY
Founded in 2010, Verity Commercial is a Washington, DC metro-based national multidisciplinary firm that approaches the commercial real estate industry in three ways: development and construction services, brokerage and real estate investments. Our breadth of expertise gives clients more options and the perspective to make better decisions. Our fast-growing construction management practice focuses on three core industries: data center/ mission critical, life science and mixed-use projects. Our brokerage practice is geared toward clients that require strategic thinking along with transactional results. And our investment practice combines our market knowledge, strategic thinking and technical expertise to help real estate investors build a successful portfolio.  
Verity is a 5-time Inc. 5000 firm, one of the fastest growing firms in Virginia and in the DC Metro area, and Great Place to Work-Certified™. Verity is recognized as Northern Virginia Technology Council (NVTC) Data Center Vendor Champion, Reston Cornerstones Philanthropist of the Year Finalist, Greater Reston Business of the Year, and Dulles COVID Business Champion Nominee.